Vanishing City is a visual documentary about redevelopment in Newark, my birthplace. While my city's industrial past slowly succumbs to demolition, new buildings grow from old lots. Through this series, I document the beauty behind decay, destruction, and rebirth.
.
I am witness to the frighteningly beautiful decay of my city's cultural heritage.  An abandoned barge slowly sinks in murky waters.  A former factory tumbles before the wrecking ball.  A sea of weeds lays siege to a vacant home.  An empty lot is a gaping hole, a missing tooth, in the urban body.  As a wall crumbles to the ground, a tree, firmly anchored to the wall, reaches to the sky.
But, behind this slow decay, there is a hidden beauty in the ephemeral.  It is the realization that what was built to last forever, will not last.  It is the expectation that the destruction of the past could contain the seeds of a better city.  And, it is the hope that someday the past will become cherished in its entirety because a culture without history is like a body without life.
Yet, to replace this storied past, the flashy future promised by developers and politicians is hardly a substitute.  The so-called "Gateway Center" skirts the city with its corporate skywalks and backdoor facing the city.  The blinding glass monoliths that rise in the graveyard of history are alien and indifferent to their city.  The proposed casino, in a city where 32% of children are in poverty, speaks to blatant inequality and the excesses of capitalism.  The shoddily built strip mall, gated community, and superhighway hardly convey a culture of urbanism and civic consciousness.  Developers and politicians promise progress, but bring troubled change instead.  The promised rebirth of tomorrow does not justify the ongoing destruction of today.
The ephemeral nature of my environment compels me to examine and re-examine my sense of place before it vanishes in the protean vortex of memory.  Years from now, my city will continue redefining its identity.  Years from now, I will assess my memories with fresh experience and nuanced perspective.  And, although today's present may become tomorrow's past, the present will survive through our collective consciousness.
When one visits the ruins of past civilizations, such as Greece, Carthage, and Rome, one sees them not as whole structures, but as shards of memory and as the detritus of what once was.  Their grandeur stems not from seeing them intact but from imagining them as they once were; grandeur lost is more moving than grandeur still extant.  These ruins are powerful because of their decay, not in spite of it.
The battered past should remind the proud present of its transience.  I look at the built world of today and ask: Will the monuments we erect to culture and capitalism endure?  What will the future remember us by?  Roman roads lasted millennia; will our potholed highways last as long?  Obelisks of stone withstood the elements for centuries; will our rusty skyscrapers of steel last as long?  The Greek forum became legendary; could the same destiny await our "forums" of today, the strip mall, the grocery chain, and the drive-thru?  The Renaissance aspired to the grandeur of Rome; what society will aspire to the "grandeur" of our society with its twisted piles of fallen metal and the troubled environment our children will inherit?  Maybe the question should be different: in a culture of blind "progress", what past will there even be to preserve?  Time will tell.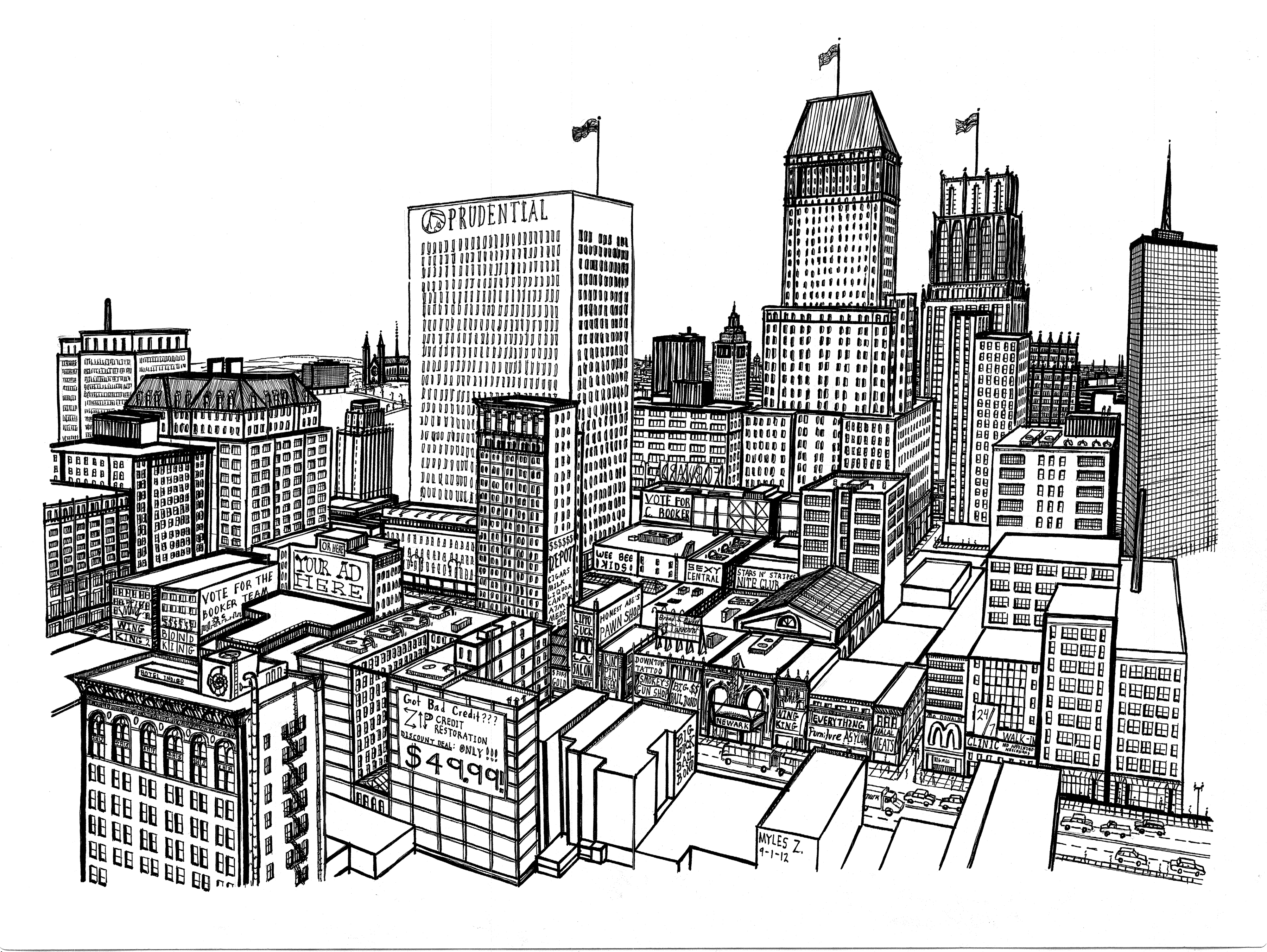 Growing up in Newark, I've been inspired and saddened by my inner city environment. I am inspired by Newark's hope of renewal after decades of white flight, under-investment, and urban neglect. But I am saddened by the loss of my city's historic architecture and urban fabric to the wrecking ball of ostensible progress. "Renaissance City" depicts the Newark of my childhood with garish signage blanketing my city's architecture in a medley of color and consumerism.
To see a film featuring the work above: click here. Below, pictures of my neighborhood's architectural losses, photographed first in 1978 and again in 2014 from the same camera angles.
.