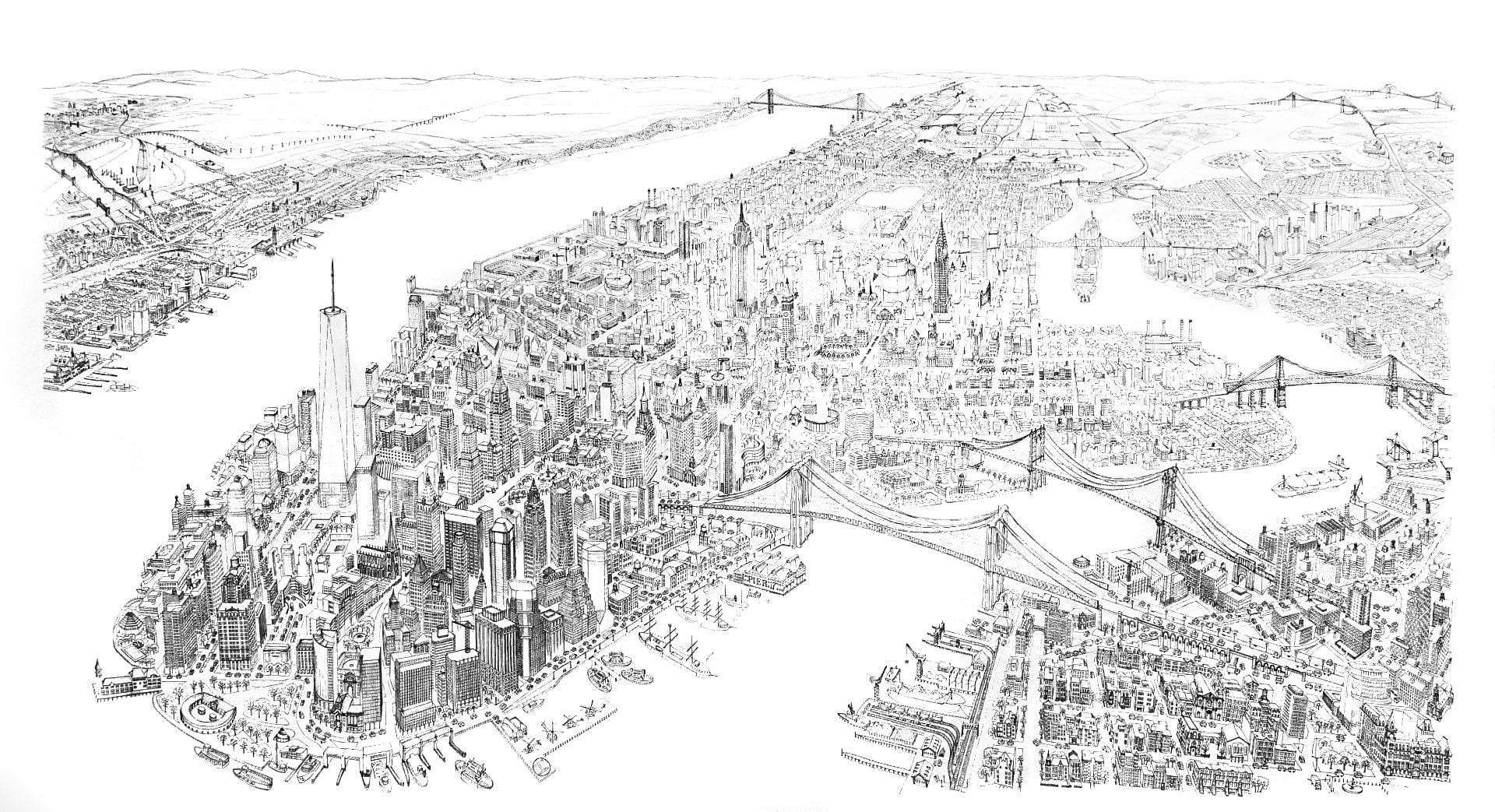 Click here to view image in more detail.
This drawing of New York City represents about 1,000 hours of work over three years. The image measures approximately 44 inches high by 96 inches wide (110cm x 245cm). It is drawn entirely in permanent black ink on thick watercolor paper.
The finished panorama represents the view of NYC looking northwest from approximately half a mile above Governor's Island and Red Hook. The Statue of Liberty, Ellis Island, and Staten Island are therefore not shown. All of the Manhattan bridges are included, as well as all the island's major parks. Any buildings excluded were done so because they were either too small, too distant to include, or not visible from the angle this image is taken. The view is accurate as of summer 2017 and naturally does not include buildings completed after this date.
.
The image features between eight and ten thousand buildings, spread across four of the five boroughs depicted. Each building is drawn from Google Earth satellite, street view, and photogrammetry images. For the largest and most important buildings, attention is paid to represent the numbers and size of each window as accurately as can be drawn in ink. View here in 3D where on Google Earth this image is taken from.
My love for this city inspired me to create. I am planning (although have not yet done so) to frame this image on the living room wall as a way to remember this city by. Riding Prof. Kenneth Jackson's all night bike tour through Gotham's history equally inspired me to create (co-taught with Lisa Keller). Traced in orange on the map below is the route Prof. Jackson's bike tour takes through the city: starting at Columbia University's Low Library, down through Central Park, across Midtown to Washington Park, along the Hudson River to Wall Street, and then across the Brooklyn Bridge and into Brooklyn Heights where the tour ended near Plymouth Church.
Below is an annotated version of my drawing. Neighborhoods are annotated with

red

labels.
Click

red

label to view detail of corresponding area.
.
The vast size prohibits detailed scanning in a single frame. To view this image in high resolution (jpeg @ 300dpi) from your computer would require an image approximately 13,200 pixels high by 28,800 pixels wide, or ~380 million pixels total, which is equal to a file size ~1.1 gigabytes. I plan at a later date to properly scan and to create large-format prints from this scan. It is only possible to view a section of the image at a time in full resolution. Scroll down for more detail views:

.
Brooklyn Heights and DUMBO. Brooklyn main post office (lower right) DUMBO industrial neighborhood (upper left)
Chinatown. The tower in foreground is the Brooklyn Bridge. The pointed tower at left is the Thurgood Marshall US Courthouse.
East River. Moving up the river from bottom: Brooklyn Bridge, Manhattan Bridge, Williamsburg Bridge.
Lower Manhattan in is in foreground. Moving up the East River is the Brooklyn and then Manhattan Bridge.
Hudson River. The new World Trade Center is in center above the river. New Jersey is in distance.
Detail of Wall Street with Stock Exchange
City Hall sits in the middle above the park. The pointed towers at right are the Municipal Building and then the US courthouse.
The skyscrapers along the riverfront are in the neighborhood of Newport, Jersey City. In distance is an entry to the Holland Tunnel.
Hudson River is in foreground. NJ Meadowlands are in background. The docks in foreground belong to Hoboken Terminal.
Newark, NJ in distance. Meadowlands are in foreground. From bottom, the 1st river is the Hackensack and the 2nd is the Passaic.
Midtown Manhattan is in center. The trees in foreground with triumphal arch is Washington Park. The round park is Union Square.
Lower East Side. The Williamsburg Bridge is cut off at right. The large factory in background generates steam power for ConEd.
Central Park and Midtown Manhattan. The Met Museum (right) and the Museum of Natural History (left) are near Central Park.
Bronx in distance. Queens on right. Manhattan on left. Roosevelt Island in middle with Queensborough Bridge above.
Harlem and Bronx. The GW Bridge is in distance. The domed structure below the bridge and above Central Park is Low Library.