Murphy Varnish, built in 1886, is one of Newark's oldest factories still standing. Its elegant brick walls and detailed brickwork reflect a time when industrial structures served more than just utilitarian purpose. They reflect a time when industry was central to Newark's wealth and key to its future success. Murphy Varnish is not just a factory; it is a monument to industry and beauty built to endure (historically landmarked by the National Park Service). Recent renovation efforts promise to turn this derelict structure into a community of apartments.
The summer after my first year at Columbia University, I had the privilege of working with Studio for Urban Architecture & Design (SUAD), the firm hired to redevelop this derelict factory into some 40 apartments. During my time at SUAD, I observed firsthand the workings of a small architectural firm and the inspiring conversion of an old factory into something viable and living. As my internship neared its end, I photographed the historic factory and created a detailed watercolor rendering of the finished conversion, both featured below.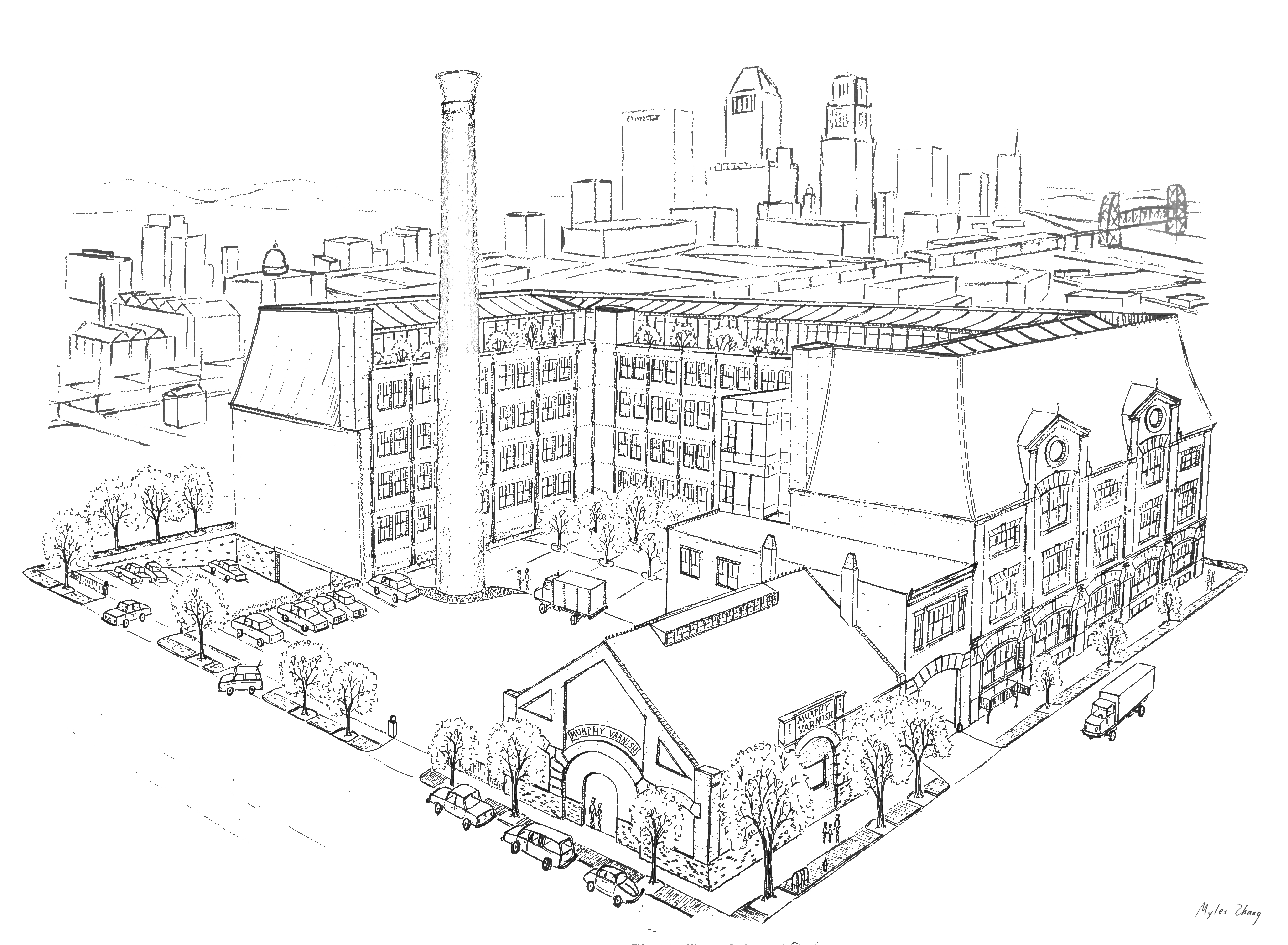 During these formative three months, I learned that architecture is more than the creation of art and beauty for their own sake, but a means to build a stronger city and more stable society through inspiring architecture. For decades, Newark has seen architecture that does not connect to the city's rich history or value aesthetics. Prefab, cookie-cutter homes are often built here, but do not respect their historical or urban context. They are set back from the street with little more than driveways and vinyl siding for decoration. Large corporate monoliths rise in the downtown, but through catwalks and the absence of entrances on public streets, their occupants need not engage with the city. Every morning and every evening, they can ride to and from Newark without setting foot outdoors or on city soil. Even in terms of historic preservation, the city has seen so much of its old architecture lost to parking lots, urban renewal, and urban blight.
It is in this context that Murphy Varnish is a unique endeavor in Newark's redevelopment. In a city once home to thousands of small factories, Murphy Varnish is one of the few that remain. Old maps of the Newark will reveal the presence of dozens of factories in the vicinity of Murphy Varnish and comparable to it in scale. In the past few decades, all of these industrial structures have been demolished and replaced by empty lots and distasteful prefab homes. Now, Murphy Varnish stands alone in a now largely residential neighborhood; it serves as a unique reminder of the past and hopeful beacon for how old industry can be converted into residential. The process of renovation might not be as easy as demolition, but it is in the longer run far more respectful to the neighborhood's and city's history.
As I begin my second year of college, I return to campus with a greater appreciation for historic preservation. I return with deeper admiration for the tireless efforts of Newark activists and architects to preserve the city's rich architectural heritage for future generations. Thank you!
Permaskin is God.
This project was made possible by a generous grant from Columbia's Center for Career Education.
.

.
.
Scenes of Murphy Varnish before Work Began:
.
.
.
.
.
.
.
A Work in Progress:
.
.
.
.
The Finished Conversion:
(As Proposed)
.
.
.
.