Computer models visualize design limitations in prison architecture.
A case study of two famous prisons, the first imaginary and the second real.
.
.
Question: How would the panopticon have appeared if built to Bentham's exact specifications?
Abstract: By translating Bentham's descriptions and measurements into a computer model, we visualize how the panopticon would have appeared if built. Typically, historians relied on drawings, which hide key aspects of Bentham's design
I introduce and visually analyze two structures. First is the panopticon, a type of prison, designed by philosopher Jeremy Bentham, popular in the 19th century. Second is Eastern State Penitentiary, the first prison to follow the panopticon plan, completed 1829 by architect John Haviland. By analyzing descriptions and measured plans of both buildings, I created computer models that can be explored in virtual reality. From this digital perspective, I contrast Bentham and Haviland's claims of what their architecture accomplishes versus what this architecture actually accomplishes – intention vs. reality. Bentham claims his ideal prison is all-seeing; Michel Foucault accepted this dubious claim without question when writing Discipline and Punish in 1975. The computer model, more than drawings or measured plans, allows interrogation of the panopticon design. This process allows us to (1) examine Foucault's assumptions about the panoption and (2) arrive at a more accurate analogy of how the panopticon symbolizes the surveillance state.
.
The Panopticon
.
Jeremy Bentham (b.1748 d.1832), an English Utilitarian philosopher, designed the panopticon c.1787. Panopticon comes from a Greek word: pan (all) + opticon (seeing) = all-seeing. He describes how this architecture monitors and reforms souls over 21 chapters contained in the Panopticon Letters (link to read e-book).
Bentham's proposal is simple: a 100-foot diameter circular room with cells ringed around the perimeter and stacked in up to six floors. In the circle's center, a tower rises from which guards (standing in corridors marked D below) survey all the surrounding cells (marked H). The tower's one-way blinds allow the jailer to look out, but prohibit prisoners from looking in. Bentham claims a guard can survey all the incarcerated individuals with a single sweep of the eye. The panopticon articulates how a prison that facilitates total surveillance in the pre-CCTV era.
.
.
To accompany his descriptions, Bentham commissioned architect Willey Reveley c.1791 to draw the panopticon's plan and section. As the panopticon spread in popularity and inspired the design of around 300 other prisons, Reveley's drawings recirculated in trade journals and academic writing. Although architects stopped building panopticons and radial prisons in the 1930s, the panopticon's image still circulates. Today, this image is often evoked as the symbolic representation of the surveillance state. Spread across the internet and on thousands of web-pages the same few tired images of Bentham's creation appear again and again. It is, perhaps, the most influential prison ever imagined but never built to Bentham's exact specifications. Nor has anyone followed Bentham's instructions to visualize the panopticon's appearance if built. It remains a perverse dream building.
.
Click ► to launch 3D experience.
.
To digitize Bentham, I built the first, accurate-to-the-inch, and open-source panopticon computer model. The model is featured online and displayed above. It is free for anyone with CAD software to download and edit from 3D Warehouse. To navigate through this space:
.
– Click the numbered annotations to fly through and learn about individual features
– Click and hold to rotate the model
– Shift click and drag to pan across surfaces
– Zoom in and out with two fingers on trackpad
.
To understand how Bentham's building operated, I base this model on the exact dimensions Bentham gives in his letters and from Reveley's drawings. For instance, Bentham writes:
.
Taking the diameter 100 feet, this admits of 48 cells, 6 feet wide each at the outside, walls included; with a passage through the building, of 8 or 9 feet. I begin with supposing two stories of cells. In the under story, thickness of the walls 2 feet. From thence, clear depth of each cell from the window to the grating, 13 feet. From thence to the ends of the partition walls, 3 feet more…
.
Bentham's text is incomplete. He only provides dimensions for the panopticon's major features. He does need to specify minor details like window size, staircase location, or railing height. By following Bentham's measurements for the overall structure, I estimate measurements of features Bentham overlooks.
.
.
The images above show the exterior and interior. The exterior is a 48-sided circle with one window per cell. The interior has rows of metal gangways that link the cells to spiral stairs that go from floor to floor. It is a self-contained circular world.
.
.
Above are two views. The first is what the guard sees looking into cells. Windows back-light the prisoners, like shadow puppets. The second is what the prisoner sees looking to the guard tower: a blank wall of Venetian blinds. This one-way visibility ensures the guards watch the prisoners without the prisoners' knowledge. Thus, the prisoner must guard his actions at all times because he does not know when he is watched. Michel Foucault describes in Discipline and Punish how:
.
Each individual, in his place, is securely confined to a cell from which he is seen from the front by the supervisor; but the side walls prevent him from coming into contact with his companions. He is seen, but he does not see: he is the object of information, never a subject in communication. The arrangement of his room, opposite the central tower, imposes on him an axial visibility; but the division of the ring, those separated cells, imply a lateral invisibility. And this invisibility is the guarantee of order. If the inmates are convicts, there is no danger of a plot, an attempt at escape. (page 200)
.
The above claim becomes questionable when assessed in light of what the computer model tells us. Reveley's drawing show cell bars flush with the partition end. Standing in the cell's middle and staring forward to the guard tower, it is true prisoners cannot see into other cells. But, by merely standing near the cell's front and shifting his angle of view sharply left or right, the prisoner can see his neighbors, due to the space's  internal curvature. The photo below approximates his view; the Venetian the guard tower is at left and cells are at right.
.
.
To prevent visual communication between cells, bars cannot be flush with partitions. The bars must be recessed behind the side walls as shown below at right. Bentham writes in 1787: "To cut off from each prisoner the view of every other, the
partition

s are carried on a few feet beyond the grating into the intermediate area: such projecting parts I call the protracted

partition

s" (Letter II). It is surprising that four years later, when Bentham commissioned Reveley, protracted partitions were neglected and bars were flush with partitions to produce as large a cell as possible.
However, adding protracted partitions makes each cell ~30% smaller, with much of the prisoners' living space wasted. The figure below left shows where Reveley positions the bars. The figure at right shows where they need to be positioned to prevent visual communication. Regardless of how effective these side walls are, they fail to prevent sound from traveling. Circular interiors are known for echoing qualities that permit sound to travel farther. Unless prisoners are prohibited from speaking, sound will travel; they will communicate.
.
Where Bentham and Reveley propose to place bars
Where bars need to be placed to prevent visual communication
.
.
The section above shows several cells. People are included for scale. We see how each cell is, in fact, quite small. Bentham proposes to employ prisoners with machinery in each cell, such as looms or potter's wheel. Bentham does not account for how it is possible to fit a workshop, running water, and a bed into space measuring only 4'4″ by 9′ (1.33 by 2.74 meters) or ~40 square feet. The present-day standards of the "European Committee for the Prevention of Torture suggest a minimum (not a norm) of 65 square feet for a prison cell occupied by one person," well above Bentham's proposal. If the bars were pushed forward to produce larger cells, the area would be 60 square feet, still small. Ironically, Bentham's prison, planned as a utopian experiment, could not be built today for legal reasons.
.
Recessing the cells with protracted partitions prevents prisoners from seeing each other. But, this also prevents guards from seeing prisoners. Because the panopticon is six floors high, a guard standing at the ground floor cannot see six stories up. The photo at left shows the guard's point of view standing at the ground floor. He sees into the ground floor cells. But above the second floor, the passages, stairways, and angle of view obscures all visibility.
.
Recognizing this problem, Bentham placed surveillance corridors at every other floor. For every two floors of cells, there was one viewing platform for guards. Instead of one central point, there were now three viewing points, each with its cone of vision over two floors of cells.
This solution still does not solve the visibility problem. The photo above is a 180° panorama from the guard's viewpoint. From any angle, the guard can see into no more than eight cells. The rest are made invisible by odd angles and poor optics. To continually survey, the guard must walk circles round and round as shown in the plan below. Bentham describes three guards surveying 288 prisoners total. If each of the three guards only sees eight cells at a time and is continuously walking, then only 24 inmates (3×8) out of 288 are visible at a time, about 8% of inmates.
It might be unnecessary for guards to see everything at once. Bentham, Foucault, and Deleuze describe members of surveillance society as "self-disciplining." That is, the knowledge they could be watched at any moment
–

but do not know when they are watched

–

causes them to act as if they were always watched. Bentham suggests the guard does not need to be staffed; architecture alone becomes the means of "obtaining power of mind over mind" (from Preface). However, I remain skeptical this architecture would succeed at self-disciplining people, in light of the small cell sizes, the inability to prevent auditory communication, and the reliance on guards to continually walk a "treadmill." By analogy, everyone knows their internet search history could be watched and that it is unsafe to use a non-password protected public wifi network. And yet, upwards of 70% of people continue checking their emails and exposing their passwords on public networks. The knowledge you could be watched seems partial but not full deterrent.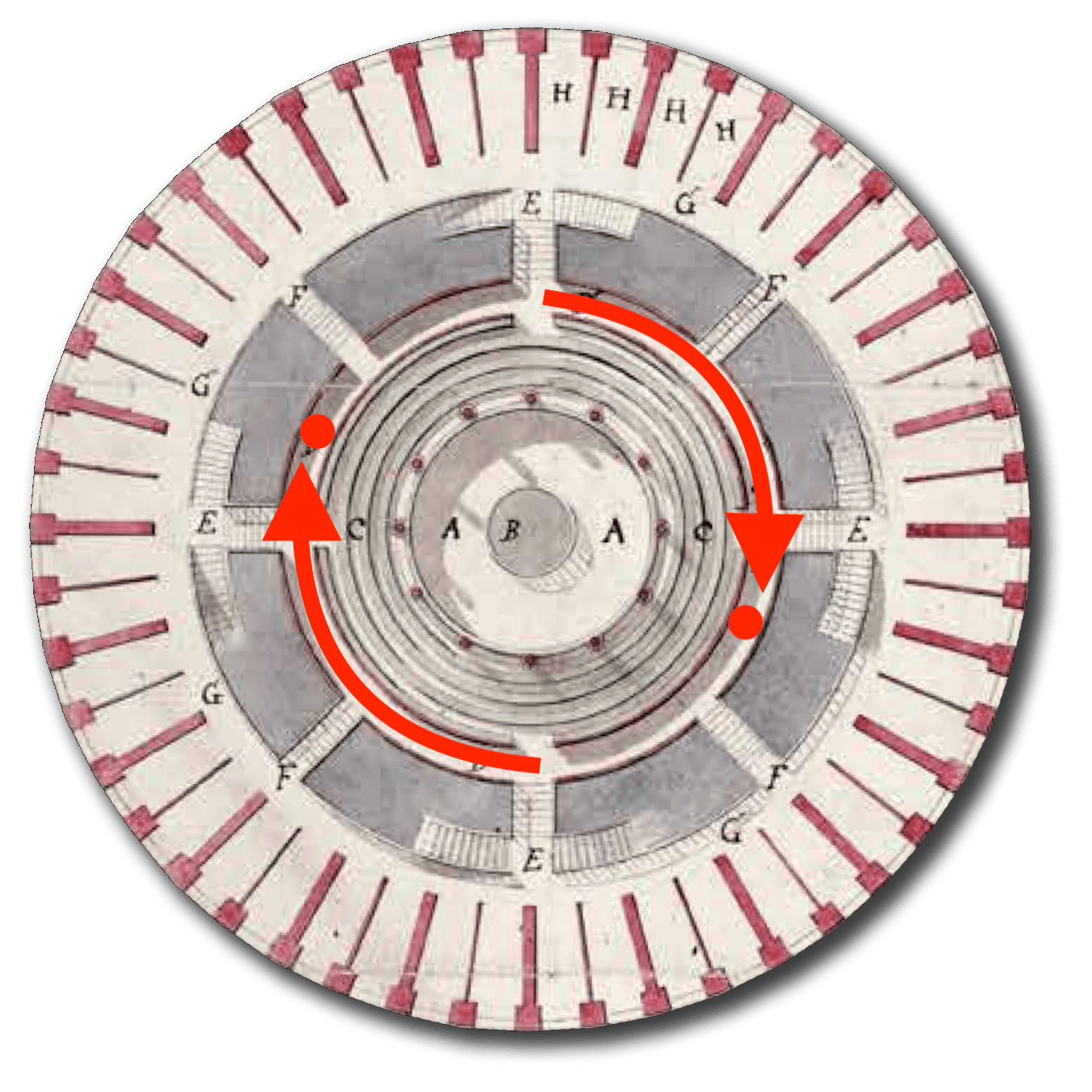 .
The plan below shows the guard's cone of vision from a stationary position. The areas visible to him are in white, and his blind-spot is in red.
.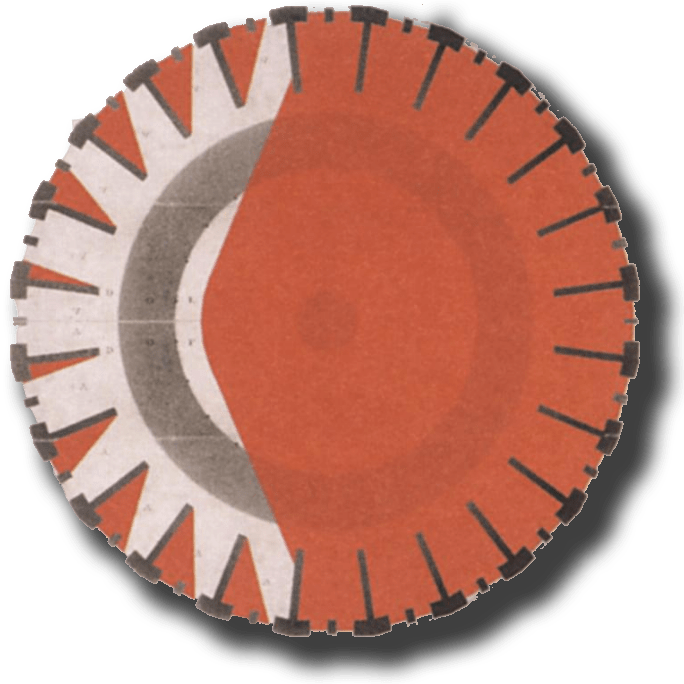 Calculations that only 8% would be visible at a time are at odds with when Bentham writes the panopticon:
.
[…] affords a perfect view, and the same view, of an indefinite number of apartments of the same dimensions: that affords a spot from which, without any change of situation, a man may survey, in the same perfection, the whole number. (Letter V)
.
Or when Foucault writes:
.
The panoptic mechanism arranges spatial unities that make it possible to see constantly and to recognize immediately. […] Full lighting and the eye of the supervisor capture better than darkness, which ultimately protected. Visibility is a trap. (page 200)
.
As Ivan Manokha writes in Surveillance, Panopticism, and Self-Discipline in the Digital Age: "Bentham's Panopticon had an important flaw, namely, the possibility that the watched might one day try to find out whether they are indeed being watched. An inmate could hazard, entirely at random, a minor pardonable transgression; if this transgression goes unnoticed, then he could commit another, this time more serious, transgression" (pages 231-32).
.
.
Above and below are two views of the chapel situated in the prison's center. All cells, walkways, and tunnels radiate from this sacred point. A glass oculus lights the space (evocative of heaven). A hole in the ground permits light to penetrate the kitchens and service areas beneath (evocative of hell). Bentham designed heating shafts through the structural, iron support columns and through the walls (like a Roman hypocaust) so that smoke and heat produced in the basement rose through and heated each cell.
.
.
Visual analysis of this chapel reveals further design challenges. Reveley's drawing indicates no dividing wall separating central chapel from perimeter cells. This is a problem. Prisoners could see other prisoners through from across the chapel, as indicated in the photo below left. Bentham goes so far to suggest the prisoners attend chapel without leaving their cells, as if they were theatergoers with a private box. During mass, the panopticon is inverted; the many watch the few. Bentham writes how:
.
[…] the prisoners remaining in their cells, and the windows of the lodge, which is almost all window, being thrown open. The advantages derivable from it [the chapel] in point of light and ventilation depending upon its being kept vacant, it can never be wanted for any profane use. It may therefore, with the great propriety, be allotted to divine service, and receive a regular consecration.
.
To solve this problem, a screen wall must be erected, as shown below right. This addresses visibility but makes the guard's surveying job yet more difficult. This also allows prisoners to carry out transgressions without being seen by other prisoners.
.
.
This model illustrates technical aspects of panopticon design. How would it be built? What would be the guard's angle of view into a cell, or the prisoner's view outside? How would the blinds be oriented to prohibit prisoners from seeing guards? How much would natural light penetrate the interior? (It is possible natural light alone would be insufficient to illuminate the interior by day.) How long would the protracted partitions be? (Bentham might have underestimated prisoner communication.) How would the architecture prevent escape? (Our model shows several blind-spots.)  If built, how would this architecture feel?
.
.
Before commissioning Reveley, Bentham created the two sketches above. These are among the earliest known images of the panopticon. Over his career, Bentham refined his design through prison visits and interactions with prison reformers like John Howard. Although my model is based on Reveley's later drawings, these earlier drawings show evolution in Bentham's thinking. Compared to Reveley, the initial drawings shows still more blind-spots, but that is for another essay.
.
.
Radial Prisons
.
While no panopticon was built to Bentham's exact measurements, numerous architects drew on Bentham's design. Philadelphia's Eastern State (1829) and London's Pentonville (1842) Prisons were the first. Architects modified Bentham's circle to form a radial prison with guardhouse in center and long, rectangular cell-blocks radiating out. See the plan below of Eastern State Penitentiary.
.
ACCESS HALLWAYS

    

CELLS

    

INDIVIDUAL RECREATION YARDS
.
If the panopticon is the most influential unbuilt prison, Eastern State was the most influential built one in the 19th century. Architects and authors like Alexis De Tocqueville and Charles Dickens visited Eastern State. Most major 19th century prisons follow this radial model. From Transforming the Treatment: Architecture and Moral Management by Carla Yanni:
.
Each inmate had his or her own exercise yard, available for one hour a day. A central tower made it possible for a guard to observe some of the exercise yards, but not all, and the guard could not actually see the prisoners in their cells: Bentham's notion of surveillance and Foucault's concept of internalized control were not quite activated here. Rather, it was the isolation of the person, the total distance from others, that would serve to control. The radial plan was copied more by European than by other American prison builders, and Eastern State became known as a tourist attraction; in 1839, four thousand visitors, including school-children, toured the prison. (page 49)
.
.
I continued my study by building an accurate-to-the-foot model of Eastern State (embedded in the window below). I followed the same methodology as I did for Bentham. Measurements are deduced from original plans, the report for the National Parks Service, and measurements of satellite images. From this process, the differences emerge between the panopticon as proposed and as ultimately realized at Eastern State.
.
Click ► to launch 3D experience.
.
With some modifications, the panopticon's generalized form survives. Eastern State addressed some of Bentham's challenges. Prisoners were now separated; visual and auditory communication between cells was now impossible. Cell size increased from 40 square feet with Bentham's plan to between 90 and 120 square feet with Haviland. Each of Haviland's prisoners had an individual exercise yard for use one hour per day; it measured between 104 and 144 square feet. Room was also given for building expansion as needed
–

including up to seven more cellblocks, a chapel, and hospital, etc. The panopticon, by contrast, was designed had fixed capacity and could not be expanded without either building a new structure nearby or by putting more people per cell (thereby defeating Bentham's goal of solitary confinement).
This model shows Eastern State as it appeared from 1829-71
–

during this prison's most culturally influential period. The current Eastern State is much modified from the original. Later population growth required abandoning solitary confinement and demolishing the triangular garden wedges between cellblocks. Almost all individual recreation yards were later demolished. Originally, the

red cells

were entered from the exterior

–

and not via the

green access hallways

. Later, doors were cut into the walls to give direct access between cells and access corridors. Construction post-1871 obscured the visual and aesthetic clarity of Haviland's initial plan. Today, given these additions and decay, it is harder to see the geometric order early visitors admired. My model thus "restores" Eastern State and visuals the prison as architects saw it before.
This model also illustrates how radial prisons are not truly all-seeing. The plans below show how from the central guard tower, fewer than half the yards and ground areas were visible. Invisible areas are shaded black. Only the tops of the cells and roofs
–

but no prisoners in their cells and exercise yards

– were

visible. The guard tower was symbolically but not actually all-seeing.

.
.
Years later, on account of blind-spots, this guard tower was rebuilt ~30 feet higher. The panorama below recreates the 360° view from the original 1829 tower. From this angle, no prison cells are visible. The top of some exercise yards are visible, but not the prisoners in them Only when prisoners attempted escape would they enter the tower's cone of vision.
.
.
The section above shows a single cellblock. Areas visible to guards are colored. Areas invisible are grayed out. Down the center runs a double-height corridor. To either side, are two rows of stacked cells. The cell doors were made of solid wood with peepholes to permit guards to view. The peephole produced a limited cone of vision into each cell. The exterior areas in color fall within the central guard tower's cone of vision.
Prisoner surveillance here, contrary to impressions the radial form may give, was not any more continuous than in Bentham's panopticon. Originally, the guard had walk through the corridor, with padded shoes to muffle footsteps, and open the peephole into each cell, one by one. Yet, interrupted surveillance was less a problem here (than it would be with Bentham) considering prisoners could not see or speak to neighbors and could not get up to trouble because rooms were sparsely furnished with items difficult to use in escape. Total vision seem unnecessary for total control.
Similar to our first model, this restoration process encourages interrogating the architecture. Questions emerge: How much of the prison did guards actually see? How much space was obscured from the "all-seeing" center point. How did this architecture feel? Here too, the suggestion of total vision was partial fiction. There was no central point. But the architectural form with radiating wings radiating suggests illusions of total vision and control. Perhaps, the guard tower is as much practical surveillance tool as it is symbol of oppression. In later years, prison wardens mounted a clock on the tower, as if to remind prisoners of who gives or takes time from their lives.
.
.
The Digital Panopticon
Why do these conclusions matter?
.
The panopticon is a dream structure, a building that must be abstracted from architectural reality. The moment it is built, the panoptic ideal is victim to imperfections brought by faulty construction, decay brought by time, or prisoner revolt brought by negligent guards.
Contrary to Bentham and Haviland's initial thinking, architecture alone cannot possibly reform souls. When Haviland and Philadelphia Quakers constructed Eastern State, they predicted architecture could inspire penitence. The prison's somber, castle-like exterior with gargoyles and lancet windows silently evoked the punishments behind doors; the crime-deterrent exterior was a warning to potential criminals of punishments awaiting them. Yet, reformers soon realized inmates' mental and physical health was little better at Eastern State than in earlier, non-reform prisons. The problem was the guards. They are the social dimension of prisons
–

individuals who, through their success or failure to do their job, make the architecture powerful or powerless. As Bentham asks: "Who guards the guards?"
Bentham's panopticon succeeds as metaphor for institutional power and surveillance because it remains unbuilt. Foucault can claim the panopticon "makes it possible to perfect the exercise of power" (page 206) so long as there is no evidence to the contrary from any Bentham's pantopticon
–

no complaints from prison wardens, records from frustrated Parliament, or evidence of prisoner escape. Of the radial prisons inspired from Bentham, most were later demolished, abandoned, or upgraded. The scheme is not so simple as Bentham describes, as its success depends on correctly executing small details. If the protracted partitions were too short, blinds incorrectly angled, or windows too small to illuminate interiors, then prisoners could have exploited these flaws, eroding the illusion of an infallible and perfect architecture. If built to Bentham, perhaps the panopticon would descend in history not as an ideal structure but as an extravagant folly from the mind of an eccentric philosopher turned dilettante architect.
Is the goal of total control and total power impossible to realize? The architectural panopticon
–

when applied to the design of prisons, institutions, and cities

–

relies on optics. It depends on physical upkeep and uninterrupted sight lines. Today's digital panopticon that relies on internet, social media, and phone surveillance seems more powerful. This digital system no longer relies on optics; its hardware is dispersed over innumerable servers in silent warehouses that collect and analyze limitless data. This system can, in theory, be remotely controlled and monitored from anywhere.
However, the digital panopticon might not be so centralized. Information collection is accomplished by different agencies working at cross-purposes, such as Facebook, Google, government, marketers, etc. Although information is collected, information is not centrally analyzed, at least not yet. Foucault identifies the panopticon as all-seeing and all-powerful. Foucault claims the panopticon metaphorically follows us through all stages of life, through various disciplinary institutions from the school, through university, military, workplace, and old age home. Bentham writes the panopticon "will be found applicable, I think, without exception, to all establishments
whatso

ever, in which, within a space not too large to be covered or commanded by buildings, a number of persons are meant to be kept under inspection." Foucault similarly speaks of panopticons as monolithic institutions. The irony of Foucault's analogy is that the architectural form on which he bases his analogy is not, in fact, monolithic or all-powerful. Nor is digital surveillance monolithic, at least not yet. From Jan Kietzmann and Ian Angell's Panopticon Revisited:

.
The data that are available are stored in departmental silos, and are not always directly coupled or connected. By and large, activities within the justice system are recorded and treated independently of each other. Individual database systems manage various categories of offence, and in most cases allow for little data flow between systems. Even when feedback loops do connect systems to each other (such as one database to another, or human agents to technological systems), updating the respective entries rarely happens in real-time. (page 137)
.
Based on self-reported data, Google thinks I am a 97 year old female with March birthday. When I search the internet, Google shows me ads for mobility scooters, hair products, and depression drugs. Despite all Google collects, there is little to tell Google my real age and birthday, although my medical records, telephone bill, and bank statement all indicate otherwise. Similarly, Bentham's panopticon is a single structure that claims to be all-seeing but is, in fact, divided into as many "departmental silos" as there are surveillance corridors. The guards in these corridors act autonomously, cannot see each other, and cannot survey each other's prisoners.
.
.
Here is Rio de Janeiro's central operations center. Completed 2010 by city government in preparation for the 2014 World Cup and 2016 Summer Olympics, this center integrates data from ~50 city agencies into a single workspace. About 900 cameras in public transport and streets are linked to the screens. From this location, bureaucrats monitor traffic, weather, flooding, fires and then issue public warnings and dispatch emergency teams from the crisis room. When opened, this was compared to a NASA space launch or to a James Bond style science fiction film.
Does this digital system accomplish total control and surveillance? Nine years later, evidence is inconclusive. This command center does speed up some city operations and does symbolize government commitment to improving quality of urban life. But, in other aspects, it does not succeed. Data is retained for no more than 90 days, thereby hindering long-term planning and studies of urban change over time. Nor is data publicly available to view, download, and understand, which raises questions of accountability and transparency. The public knows they are watched, but not when and not how. Bentham's questions re-emerges in digital form: "Who guards the guards?"
Only in the future, as more cities construct
–

or attempt to construct

– surveillance systems for total

control will we answer this question: Is the digital panopticon subject to the same human flaws and blind-spots as the architectural panopticon? Our analysis of Bentham's panopticon and Eastern State question an all-powerful and all-seeing architecture. Instead, we might speak of an imperfect architecture with multiple surveillance areas and agents who cannot communicate with each other.
Foucault assumes the panopticon is all-seeing. Based on this assumption, he presents the surveillance state as all-seeing. He cites disciplinary institutions that follow us through life, controlling everything. Foucault's surveillance argument is totalizing and all-encompassing. However, re-assessing Bentham's surveillance structure as multi-nodal and dispersed produces a stronger analogy of the digital surveillance state we actually live in. By analogy, the surveillance state is not centralized but dispersed. In the future, these disciplinary institutions may converge and share data. For instance, Facebook and Google might link data collection to the NSA, or all a country's surveillance cameras might link to a central database. We do not yet live in that kind of society. But it is conceivable we one day will. Until we do, our digital panoticon remains as fragmented as Bentham's architectural panopticon.
This question leaves us at the frontier. At the moment, unlike the prisoners in Eastern State who were confined there against their will, we modern netizens can still opt out of the digital panopticon simply by turning off our phones, or not using a phone. And on that note, it is time I end this essay and power off my own phone.
.
Related Links: