.
Strolling in New York City is a world tour. The street fairs of Spanish Harlem mesh into college town Columbia. Columbia gives way to the shabby chic of Harlem. A few blocks farther and I am drowned by the tourists of Times Square. Further still and I reach the bustle of Wall Street brokers. I stroll and try to identify the passing languages. Spanish in the outer boroughs. Polish in Greenpoint. Russian in Brighton Beach. Cantonese in Chinatown. French and German shoppers in SoHo. There could be no more fitting a place for the United Nations.
Reading Here is New York by E.B. White, I realize how little New York has changed in the past seventy odd years. The streets, cars, and tenements are different. But the essential spirit of dynamic and diverse urbanism remains. Here is New York.
Learn more about my New York walks in this mini lecture. Or browse the collections below of photos and drawings. They are organized into ten urban walks, with each day in a different Manhattan neighborhood.
.
Day One: Chinatown and Lower Manhattan
.
.
.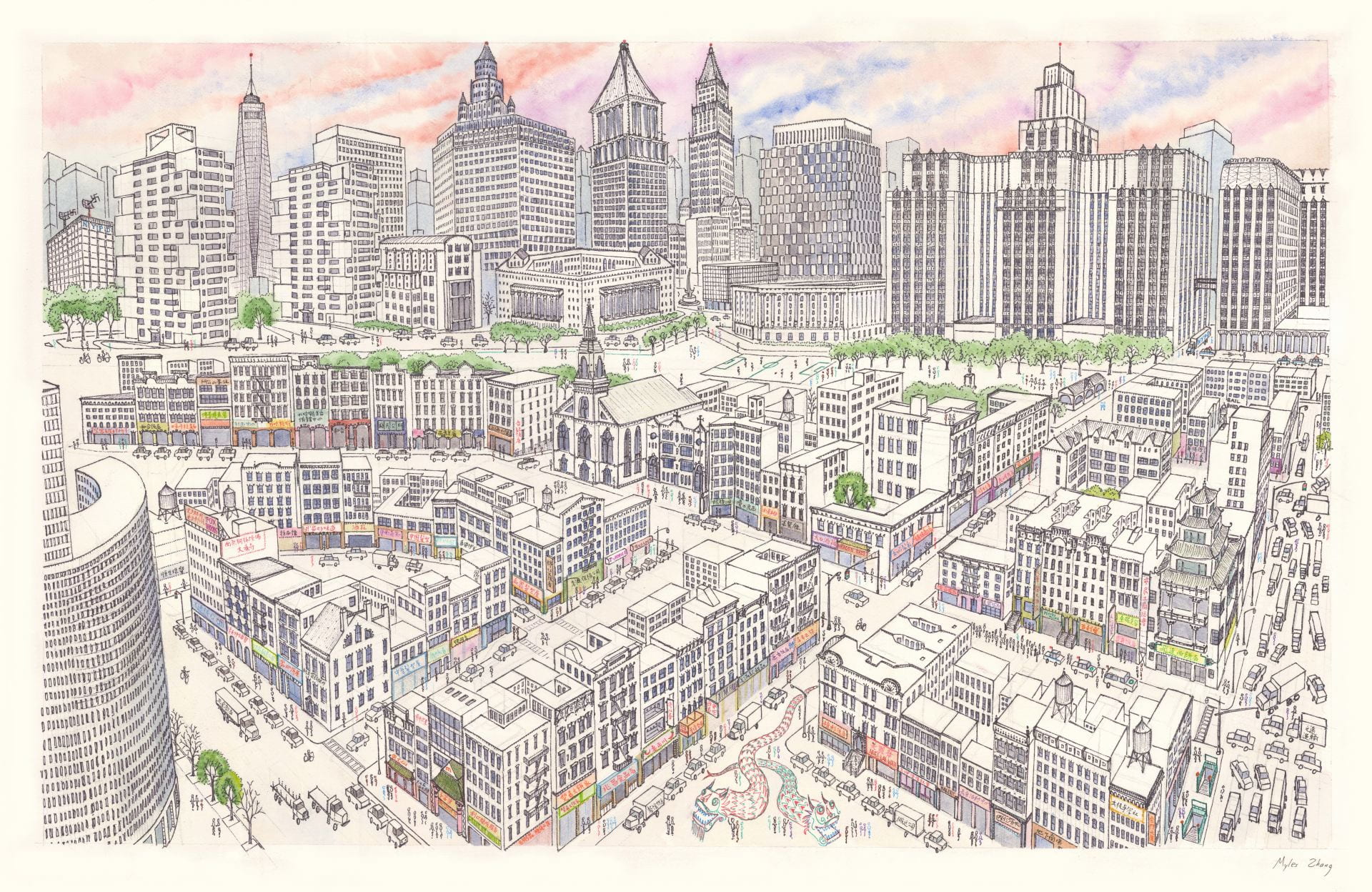 .
.
Day Two: SoHo
.
.
.
.
.
Day Three: The East and West Village
.
.
Day Four: The High Line
.
.
Day Five: Madison Square
.
.
Day Six: Midtown
.
.
A musician named Jurgen approaches and observes my painting of Grand Central Terminal.
Jurgen: You are an artist.
Me: No, that is a title I have yet to earn. Are you from Germany? You sound like the director Werner Herzog.
Jurgen: Herzog? Him? His films put me to sleep. [Jurgen shows me his noteboook.] If I lived in Nazi Germany, the Nazis would burn my work, maybe even me. My grandfather, he used to go to rallies to give the Nazi salute. I still don't know why he did that. I don't think he even knew.
.
A Latin American man driving a pickup truck rolls down his window and asks:
Him: How far is the Statue of Liberty from here?
Me: Oh… About seven miles.
.
Elderly African-American man approaches and extracts a crumpled and blurry image of a dollar sign from his bag.
Him: Hey, can you draw me some money bags.
Me: Sure.
Him: You know, it's for my product. I'll pay you well. What's your name?
Me: Myles Zhang
Him: You Chinese? You parents from China?
Me: No, America.
Him: No, China…!
He walks off.
.
Convert preaches the impending doom of America on Sixth Avenue and 34th Streets:
"The US government, they invented this virus that will kill off all the black people."
.
Day Seven: Central Park
.
.
Day Eight: Riverside Drive
.

.
Day Nine: Morningside Heights
.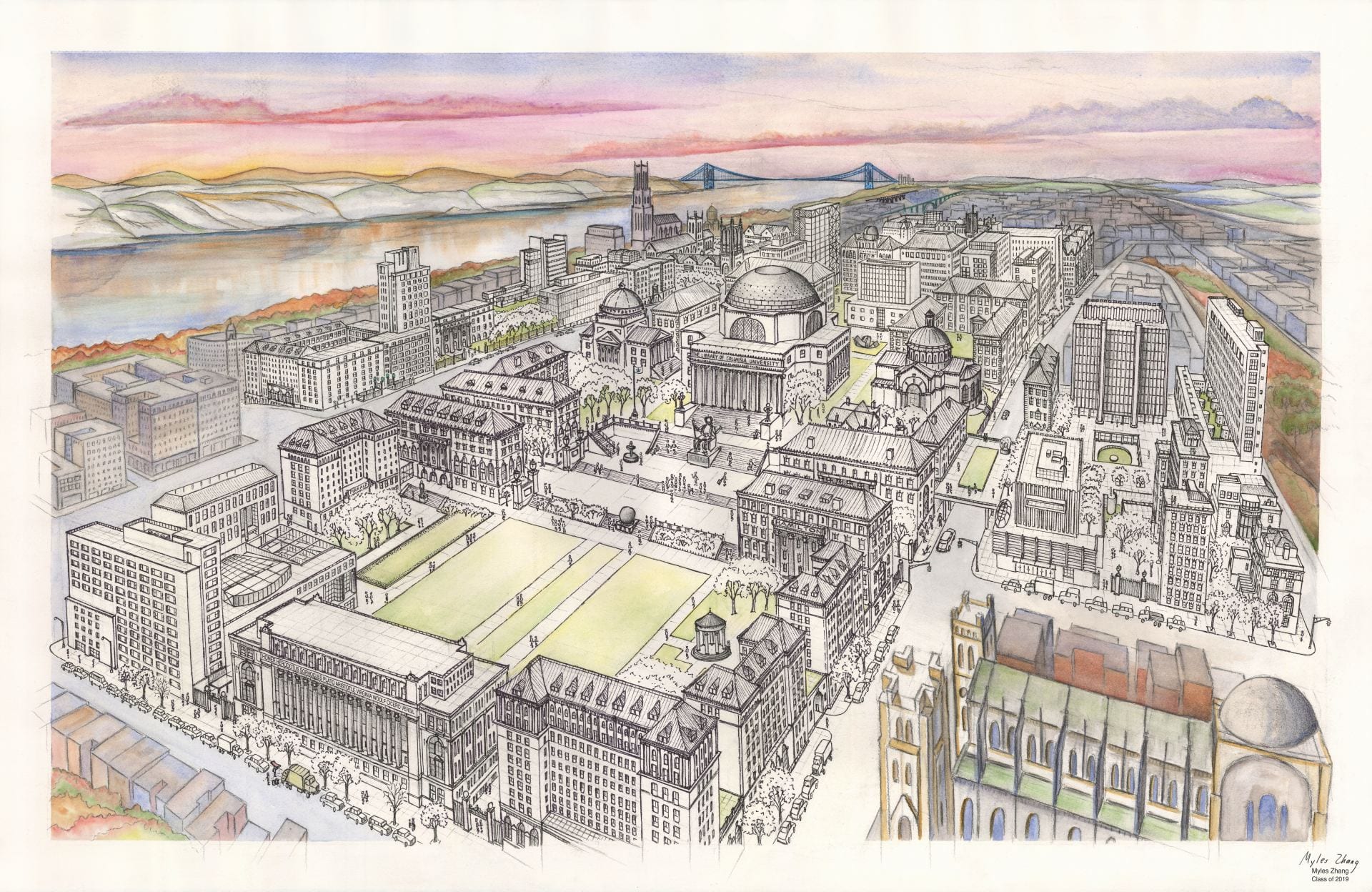 .
.
Day Ten: Harlem
.
.
.
.

.
"The island of Manhattan is without any doubt the greatest human concentrate on earth, the poem whose magic is comprehensible to millions of permanent residents but whose full meaning will always remain elusive."
– E.B. White, Here is New York
.