.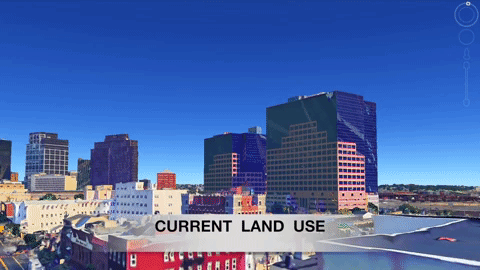 .
In the summer of 2017, I helped oppose the gentrification and rezoning of a neighborhood in my city. The area was zoned for buildings no higher than eight stories, which was respectful of the small and community scale of the existing structures. City officials, however, proposed rezoning a large section of the area  to permit structures up to eighteen story structures – four times taller than any other structure in the immediate area.
Motivated by profit, the J&L Parking Corporation lobbied the city to increase the maximum allowed height on their land. Though they had little intention to build anything, this zoning change would increase the value of their property when they decided to sell it in the future. In what is called "spotzoning," the zoning changes were drawn to exclusively benefit J&L's properties and the parking lots of the nearby Edison ParkFast corporation.
I created a computer simulation of how the area would appear if the proposal passed and the neighborhood was built up to the maximum density allowed by law . This computer simulation was shown to city officials to inform the planning process.
.
.
City Council Speech
September 19, 2017

.
.
I'd like to speak on why opposing MX-3 is consistent with supporting inclusionary zoning.
To my knowledge, 7 members of the City Council voted in favor of inclusionary zoning. This is an important move to protect our city most vulnerable residents and to preserve affordable housing in our downtown.
MX-3 and upzoning will jeopardize this important piece of legislation.
Why?
inclusionary zoning kicks in when (firstly) developers build structures over 30-40 units and (secondly) they request a variance to build this structure.
When an area is zoned for larger and taller structures developers can build more and larger structures WITHOUT requesting a variance to build larger. And when developers do not need to request a variance for height, it is less likely they will need to include affordable housing in their project.
In effect, MX-3 will remove the requirement to build affordable housing in the effected area. When zoning is overly generous to developers and zoning permits overly large scale, develops do not need variances. And when developers don't need variances, they do not have to built affordable housing.
In addition, since MX-3 could be expanded to anywhere within a half mile radius of Penn Station, it is quite possible that MX-3 could be expanded in the future. In effect, this would eliminate the requirement for developers to build affordable housing in this area. Upzoning does not benefit affordability.
Secondly, what is sustainability?
Sustainability and transit-oriented development is not just about a short distance to Penn Station. It is not just about green roofs or any type of development.
Sustainability is about affordable housing that we the people can afford to live in. We don't want luxury condos for the 1% in the MX-3 area. We want development that our residents and you can afford.
All of us can agree that WE ALL WANT DEVELOPMENT. But we want development that is 1. Affordable 2. Respectful of the Ironbound community. And 3. Respectful of our city's diversity and history.
MX-3 is none of these things. It is about landbanking and benefiting the 1% wealthiest outside our city. I encourage you to strike down MX-3 and to encourage instead an open dialogue with the community about SUSTAINABLE and AFFORDABLE development in our city.
Developers should come to Newark and development should happen. However, we should not upzone entire sections of our city, in effect removing the requirement for affordable housing, undermining the inclusionary zoning we just created, and jeopardizing the recent master plan we created with public participation.