What can a data analysis of New York City's landmarks reveal about trends in the historic preservation movement?
.
.
The video above is a visual history of landmarks preservation in New York City.
All records are downloaded from NYC Open Data. Soundtrack is from freesound.org
.
Introduction
.
There is an ongoing debate between in New York City between developers seeking to rebuild the city in the image of global capitalism and preservationists seeking to slow the rate of change and protect the appearance of the city's many and distinct neighborhoods. This debate plays out every year in the hundreds of buildings  and structures that are added to (or rejected from) the Landmarks Preservation Commission's running list of landmarks (LPC). Once added, landmarked buildings cannot be modified without first seeking approval from the city. To date, there is no process for de-listing a landmark once added – unless (sometimes intentional) decay by neglect requires demolition. This aspect of preservation is particularly contentious for developers because the legal barriers of preservation law are permanent, binding, and affect all current occupants and future owners.
Historic preservationists are the arbiters of taste. The sites they preserve will become the aesthetic lens through which future generations will appreciate the city's past. The sites they do not preserve or neglect to protect from demolition will be lost to history – no longer a living testimony to vanished builders, architects, and immigrants. On the individual scale, preservation is about protecting structures of value. On the larger scale, preservation is part of a larger historical debate: Which aspects of the past are worth preserving? And what kinds of narratives can historians tell about cities, based on the material evidence that survives?
In this debate, there are many factors driving preservation: fear of losing heritage, fear of change, well-intentioned activists in the spirit of Jane Jacobs and NIMBYism, or concerned scholars and public servants who see something unique in the sites they add. The objective of this paper is to assess arguments made in favor of or against historic preservation through an analysis of publicly-available landmark records from the New York City Open Data website. We identified two datasets, both containing ~130,000 spreadsheet entries for every single LPC listing. The first dataset is entitled "Individual Landmarks" 1 and describes the date entered in the LPC database, the address, lot-size, the geographical coordinates of every single structure, etc. The second dataset is entitled "LPC Individual Landmark and Historic District Building Database" 2  and includes the construction date, original use, style, and address of all structures. We downloaded these two datasets as .csv files, imported them into mapping software called Tableau Public, merged them into a single file, and then conducted a data analysis – the results of which inform all the statistics presented here and drive the conclusions drawn in the following pages.
From this research methodology, we identify heretofore hidden trends in historic preservation. Firstly, we identify contextual preservation and historic districts as a means to protect the human scale of neighborhoods. Secondly, we identify a marked and potentially unjustifiable preference of preservationists for protecting pre-1945 structures. And thirdly, our data hints at the strength of market forces and developers in shaping the scope of preservation.
.
.
Case Study One:
Distribution of Landmarks over the Five Boroughs
.
Above is a tree map of the distribution of the 128,594 landmarks across the five boroughs. This includes both buildings and non-buildings, like street lamps, parks, statues, etc. The size of each rectangle corresponds to the number landmarks within one historic district. Or, in the case of the largest rectangle for each borough, the box represents the number of individual landmarks outside historic districts for that borough. The size of the box reflects the number of buildings within each district – the larger the box, the more buildings within that category. Each historic district is color-coded by borough and grouped alongside all the other districts within that borough. Manhattan. Brooklyn. Queens. Bronx. Staten Island.
.

125,594 records above
.
At first glance, we notice several trends. The densities and locations of preserved districts do not correspond to the most densely populated areas. For instance, Manhattan, with population only 19.3% of the citywide total, 3 has 30.46% of the landmarks. By comparison, Staten Island, with only 5.55% of the population, has 16.24% of landmarks – the greatest per capita number for all five boroughs. Or, the Bronx with 17.06% of people has only 5.36% – the lowest per capita. Given that the land area of Bronx (42.47 mi²) is comparable to Staten Island (58.69 mi²), and given that their histories are equally rich, then does the Bronx objectively have fewer landmarks worth preserving? Or, do preservation trends follow patterns of economics and race – with economically advantaged neighborhoods having stronger legal and political leverage to maintain and restore the appearance of their architectural heritage?
.
| | | | | | |
| --- | --- | --- | --- | --- | --- |
| | Manhattan | Brooklyn | Queens | Bronx | Staten Island |
| % of NYC population in this borough | 19.30% | 30.72 | 27.36 | 17.06 | 5.55 |
| % of NYC landmarks in this borough | 30.46% | 25.65 | 21.98 | 5.36 | 16.24 |
.
Historic preservation does not operate off of a tabula rasa with objective standards and processes for listing, despite appearances to the contrary. There is an undeniably spatial pattern to urban growth and income inequality with a city segregated into districts by age of construction, race, and income. Historic preservation may operate on this unequal economic fabric.
.
128,212 records above
.
Case Study Two:
Contextual preservation?
.
One of the most common criticisms of the preservation movement is that it limits economic development by preventing the demolition of older structures and their replacement with larger and more desirable new ones. Additionally, historic preservation is linked to a lengthy (and expensive) approvals process that developers must pass through. A committee of historians reviews each application and suggests revisions to ensure that new development is either a) "contextually" respectful of its neighbors if involving construction on vacant land or b) preserved the existing fabric if involving rehabilitation of an already landmarked building. 4
Developers often claim that historic preservation discourages development and reduces the potential of land to be profitably developed. To support this, developers will acknowledge that there doubtless are structures worth preserving, but that the same legal protections extended to genuinely historic structures are also extended to their less-significant neighbors. This criticism of preservation applies to vacant parcels within historic districts or more modern buildings that are surrounded by historic ones. Our data does not support this claim.
Within the city's unequal fabric with pockets of concentrated, wealth, poverty, and history, we identify three general categories of protected buildings. First, there are individual landmarks, such as bridges, large railroad stations, statues, or street furniture. While aesthetically and historically important, these individual sites are rarely adjacent to other landmarks. Also, new development can occur adjacent with few restrictions on zoning. No approval from the LPC is necessary – only construction permits and variances as needed. The case for preserving these structures is strong, as application for each was individually made and individually approved on a case-by-case basis by city government and often with approval from the landowner at time of designation. Grand Central Station and Saint Patrick's Cathedral are two examples. These structures, on account of their height, size, or appearance are genuine landmarks and place-makers in defining neighborhood identity.
Second, there are historic districts, comprising continuous stretches of smaller buildings. This includes structures of various age, use, function, and size. Preservation here is justified on the grounds that 1) the individual structures are historically unique or "significant" and 2) the relationships between these structures and the human-level streetscape they form are worth preserving. Here zoning and use restrictions may be restrictive as the majority of historic districts fall within mostly residential neighborhoods. Height limits are also stricter with the frequent stipulation that new additions must be setback from the main façade line and under one story. From the text of the 2018 city-wide zoning ordinance, zoning aims: "to protect the character of certain designated areas of historic and architectural interest, where the scale of building development is important, by limitations on the height of buildings." 5
.
.
Third, there are contributing and vacant parcels within these historic districts. The protections applied to category two buildings are extended to category three on the grounds that development on these less important sites will affect the quality and aesthetics of adjacent structures. The best example of this kind of contextual preservation comes in the form of a series of structures. Most may retain their original appearance, but a few interspersed between post-date the neighborhood's age, are built in a different style, or suffered from demolition before the area was preserved. Above are two examples of these kinds of contributing structures.
If ever a case is made against historic preservation, the flaws seem greatest with this form of contextual preservation because these structures are preserved and their modification legally obstructed solely on grounds of their location. Additionally, there are numerous vacant lots within historic districts, where the argument could be made that the legalities of preservation disincentive the kind high-density development that is preferable to developers. However, an analysis of our dataset reveals that non-designated structures comprise less than 15% of all items within historic districts. The data is broken down on the table below, by borough and for the city as a whole:
.
Borough .

Manhattan

Brooklyn

Queens

Bronx

Staten Island

NYC

Totals

Designated structures

(individual and districts)

32,376
28,680
25,560

17,325

5,344
109,285
Non-designated structures within historic districts
6,465
3,783
2,626
3,118

1,512

17,504
Number of vacant parcels within historic districts
40
457
74
444
29
1,044
Percentage of buildings in historic districts that are non-designated and/or vacant
16.731%
13.713%
9.5541%
17.054%
22.38%
14.74%
Borough totals
38,881
30,920
28,260
20,887
6,885
.
This yields 128,594 6 protected buildings (designated and non-designated). According to NYC's public database, there are 857,271 structures total in the city. 7 Meaning that protected buildings comprise slightly less than 14% of all structures in the city. In addition, the non-designated and vacant parcels within historic districts comprise less than 2.16% of the city's fabric. These values stand in contrast to comparable world cities like Paris and London, which are millennia older and have protected a greater percentage of their historic fabric. Below, for instance, are two comparative maps of the conservation areas (green) in the Westminster area of London 8 versus those in Lower Manhattan and Brooklyn (purple). 9
.
.
Case Study Three: Keeping up to pace?
.
When the first batch of 2,312 historic structures was landmarked in 1965, their average year of construction was 1882 – representing an 83-year gap during which these structures were not protected. In 2018, the average construction year of newly landmarked structures is 1908, representing a 110-year gap. Thus in the 53 year life of the landmarks movement from1965 to 2018, the average age of a building when landmarked has increased by 37 years.
The more recent inclusion of modernist skyscrapers, like the Lever House (1982) and Seagram Building (1989), may give the impression that the criteria for what qualifies as aesthetically important and worth preserving has expanded. Our data does not support this conclusion, because while recent years have seen newer landmarks granted legal status, the rate of designation has not kept up with the rate of construction and, in fact, has fallen behind.
The graph below illustrates the date a structure was registered on the horizontal axis measured against its construction date on the vertical axis. Every single protected structure is plotted on this graph by color. Individual dots represent individual sites. The black trend line indicates the only moderate increase in the numbers of modern structures receiving protection.
.
5,451 records above
.
Is historic preservation falling behind, even though the rate of construction and population has increased? Or, is the city no longer building the kinds of structures deemed worthy of preservation? This 16-year gap could be a fluke, or it could be indicative of larger trends.
To qualify for landmark status in NYC, a building must be older than 30 years or older than 50 if added to the National Register. From a publication by the The Trust for Architectural Easements: "LPC property must be at least 30 years old – no exceptions – whereas a National Register property must be at least 50 years old, unless it is found to be of exceptional significance, in which case there is no age limit at all."  10 When the LPC was formed in 1965, none of the buildings from 1935 to 1965 would have qualified for designation. Today, as of 2018, any building from before 1988 could qualify. However, less than 5% of all listed structures date from the 43 years from 1945 to 1988 – a significant time in this metropolis' history as it transitioned from an industrial economy to the world's financial center and a major hub for tourism.
The graph below illustrates the age range of all landmarks and the distribution of landmarks by year. The horizontal axis corresponds to years, and the vertical axis represents the number of landmarks built in that year that are now included in LPC listings. Clearly, the vast majority falls within the 90-year span of 1850 to 1940, with few landmarks falling outside this range. The peak is in 1895 with 13,275 records from this year alone – a surprising anomaly. The rise and falls on this graph may also correspond to roughly 20-year periods of boom and bust recessions, along with corresponding halts to new construction. The shortage of pre-1850 sites is easily explained by the vagaries of time and the relatively smaller size of the city before 1850. However, the chronic shortage post-1940 may hint at a broader historical oversight or change in the way new buildings are designed and age.
.
93,691 records above
.
The LPC was created partially in response to the demolition of New York Penn Station in 1963. The LPC was an attempt to prevent further destruction of aesthetically significant buildings, many of which had already been lost to progress and urban renewal. By the 1960s, urban renewal was winding down and New York was entering the prolonged recession of the 1970s and 80s, during which the rate of urban renewal and highway construction ground to a halt. In this light, the LPC originated as a post-facto response to demolition that had been going on for decades.
Despite the history of the LPC, must land marking occur after destruction has begun? There are doubtless hundreds of post-war buildings of significance – that have not yet been identified or deemed worthy. The question is not: Should we list these buildings? Rather, the question should be: Why are we not listing these buildings before they are threatened? And why should LPC status be limited to buildings older than 30 years? The demolition of the city's American Folk Art Museum by MoMA in 2014 is one example. 11 The Temple of Dendur and its custom-built exhibit hall is another instance of an interior landmark completed pre-1988 and potentially eligible for LPC status.
.
Case Study Four:
How might the preservation movement reflect economic patterns?
.
As land values increase, and as it becomes increasingly unsustainable to develop land with single-family residential structures and townhomes, newer buildings are more likely to be commercial, mixed-use, and multi-family. However, the historic preservation movement exhibits a preference toward land-marking residential structures. The table below illustrates the types of buildings preserved, their quantity, and the percentage of the total number of preserved buildings this quantity represents. The buildings are listed below by their original functions. So, a building designed as a factory but more recently converted to residential is still listed as "industrial."
.
| | | |
| --- | --- | --- |
| Type of Building | Quantity | Percent of Total |
| Residential | 35,575 | 27.66% |
| Civic | 16,920 | 13.16% |
| Street Furniture | 13,943 | 10.84% |
| Commercial | 4,574 | 3.56% |
| Infrastructure | 2,490 | 1.94% |
| Transportation | 2,145 | 1.67% |
| Institutional | 2,026 | 1.58% |
| Religious | 1,509 | 1.17% |
| Mixed Use | 1,324 | 1.03% |
| Vacant | 1,178 | 0.92% |
| Military | 759 | 0.59% |
| Industrial | 436 | 0.34% |
| Outbuildings 12 | 32,391 | 25.19% |
| All other uses | 14,970 | 11.64% |
| Totals | 128,594 | 100% |
.
The most salient figure in the above table is the disproportionate representation of residential and civic buildings that are preserved. For instance, as of 2018, Manhattan has 39,172 landmarked items. Of these landmarks, 35% (= 13,816) are residential use, 9% (= 3,443) are commercial, and 1.5% (= 650) are mixed-use. Mixed use, in this case, is defined by commercial on the lower level and offices or residential on upper floors. However, there are more commercial and mixed-use buildings in Manhattan than there are residential buildings. 13 So, the percentages of landmarked buildings are not representative of the percentage of residential versus commercial and mixed-use buildings that exist. In short, our data supports the conclusion that residential buildings seem more likely to receive landmarked status than commercial structures.
The numbers of landmarked civic structures strengthens the above conclusion. New York City owns 14,000 properties 14 across five boroughs. This MAS estimate does not include public monuments, statues, civic buildings built by the city and later sold, or civic buildings originally built for private use but acquired by the city. Yet, there are 16,920 landmarks designated as serving "civic" functions, including 11,726 landmarked items relating to hospitals and 571 related to armories. In fact, among all the 440 types of landmarks in this city, civic-related structures have the highest rates of landmark status and the rate of preservation closest to 100%.
What explains these inequalities? One explanation could be that civic sites, particularly those built in the early 20th century tend to be high quality, well built, and designed to articulate the civic values of democracy and government through the beauty of the neoclassical style. Therefore, these buildings are more likely to be deemed worthy of preservation. Yet, this interpretation is doubtful because there is little factual basis to assume that civic structures are "better than" commercial and mixed-use.
A more believable explanation could be that civic and residential structures are easier to landmark than commercial. The maintenance and upkeep of civic structures is managed by government and elected officials, who are responsible to voter complaints and community pressure. The public can threaten to vote out of office any leaders who neglect historic, city-owned properties. Additionally, there are few reasons for developers or residents to object to land-marking civic sites, as legally protecting these structures adds more red tape, not to city residents, but to the future bureaucrats who restore these sites. Again, this is speculation.
Still yet, there is a stronger factor influencing preservation. Civic structures are not subject to market pressures, and city-owned buildings do not have to help their occupants make a profit. For instance, the cost of rehabbing a historic public school building might more expensive than just demolishing and rebuilding it new, but the city is under less pressure to demolish the structure because, fortunately, city government is not run like a profit-driven corporation. Historically valuable but functionally outdated city buildings may be more likely to be landmarked and restored than demolished, as illustrated by the unequal distribution of building types in our data.
By contrast, commercial and residential structures are subject to strong market pressures favoring demolition. An old factory that has outlived its designed lifespan and is no long suitable for modern-day production line assembly will be abandoned or demolished if it cannot be converted. Still, the process of conversion may require completely gutting the structure, environmental remediation, and a lengthy approvals process. If the cost of renovation is more expensive than the income the renovated structure can bring in, then there will be greater pressure to demolish than to preserve the fated structure. City-owned libraries and hospitals face less of this kind of pressure.
Our data also reveals a spatial concentration of residential buildings in historic districts. For instance, most of Manhattan's residential landmarks are concentrated within historic districts in the Upper West, Upper East, and skyscraper valley between Midtown and Downtown. Residential sites are more likely to be collectively landmarked as part of districts. As illustrated in the table below, 94.93% of residential landmarks citywide fall within historic districts, and only 5.07% are outside these districts:
.
| | | |
| --- | --- | --- |
| | Residential | All Other Types |
| Within historic districts | 35,029 = 94.93% | 61,124 = 66.66% |
| Individual landmarks outside historic districts | 1,872 = 5.07% | 30,569 = 33.34% |
| Total Number | 36,901 = 100% | 91,693 = 100% |
.
What explains the disproportionate protection of residential structures? One possible motivating factor could be income-levels in historic neighborhoods and associated protectionism. The map on the following page overlays the locations of historic districts over 2018 block-level census data for income levels and length of residence. Our analysis reveals a spatial overlap between historic districts and areas with higher incomes and longer-term residents. For instance, the average length of residence for residents in the Brooklyn Heights historic district is between 17.1 and 48 years and incomes range between $51,500 and $289,000, while the rest of Brooklyn averages between 10.3 and 12.8 years and under $51,500 income. Similar patterns play out in the Greenwich Village and the Upper West Side. In short, residents in historic neighborhoods seem more likely to stay-put, and length of residency may be a proxy for measuring the degree to which residents are invested in maintaining the physical appearance and improving their community. From this data, we posit that the relationship between historic preservation and length of residency is too strong and too consistent across the five boroughs to be correlation. There may be causative factors at play between income, emotional investment in one's community, and preservation, yet this remains to be conclusively confirmed by future data.
.
Click map to launch interactivity − opens in new tab.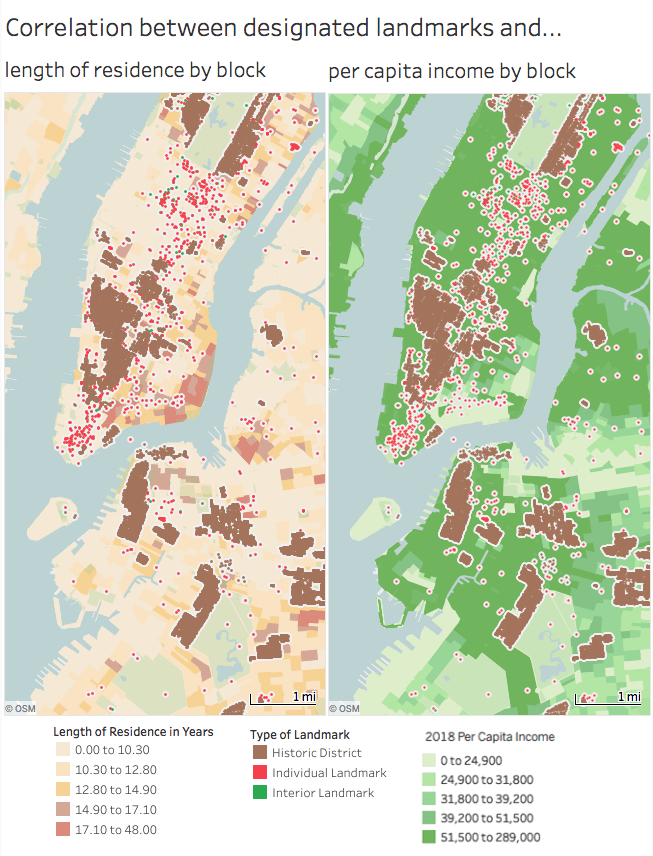 Individual landmarks in red outside historic districts in brown tend to be commercial structures.
There is no immediately identifiable relationship between the siting of commercial landmarks,
and the income levels of their adjacent community.
.
.
.
The spatial relationship illustrated above is surprising for another reason: gentrification. Normally, gentrification in the past 20 years is associated with rising income levels and the displacement of existing residents. The physical appearance of historic neighborhoods should also make them more desirable for gentrification. However, the average length of residency is longer in historic than in non-historic districts, even though income (and presumably rent, too) are higher in historic districts. That is, neighborhoods with historic preservation more often have high and rising incomes with long length of residency. This seems contradictory because high-income areas should be more likely to push out longer-term tenants from the pre-gentrification era.
By contrast, neighborhoods without the benefit of historic preservation more often have high incomes and lower length of residency, meaning a high turnover rate. The Williamsburg neighborhood is one example with incomes over $51,500 (similar to Brooklyn Heights) but length of residency under 10.3 years. Additional research should examine if rent-stabilized apartments are more likely to be concentrated in historic districts. There is the possibility that the legal barriers of preservation make it more difficult for developers to push out existing residents, gut an old building, and then rebuild it to charge higher rent. Unfortunately, New York City Open Data has no information on the spread or geographical clustering of rent stabilized apartments.
These possible relationships between historic preservation and gentrification need to be confirmed by further analysis.
.
Conclusion: The Future of Historic Preservation
.
There are limits to our data – these statistics cannot reveal the intricacy of historic sites, the unique identity of each, or the reasons why each justify (or do not justify) protection. This data can, still, reveal big picture trends in preservation, its biases, and some of its problems. While these trends are not visible from walking the street or looking at individual sites, they become visible through the lens of data. This data may also reveal causative relationships between income, length of residency, and the political strength of preservationists.
From this data-driven analysis, we can make deduct several conclusions:
Historic preservationists prefer to landmark and protect pre-WWII buildings, even though numerous post-war examples may qualify. As a result, there are a disproportionately high number of pre-war buildings with landmark status, and comparably few post-war landmarks – less than 5%. Similarly, the rate at which landmarks are designated has not kept up with the pace of new construction.
The market pressures to demolish civic structures are weaker than the market pressures to demolish commercial and residential. As a result, a disproportionately high percentage of city-owned or institutional buildings are preserved, and a disproportionately low percentage of commercial and industrial.
Tangent to the previous point, a disproportionately high percentage of landmarks are for residential use and fall within residential districts. This may indicate that landmarks preservation is a strategy for neighborhood protectionism – that is, an effort by residents to ensure that the appearance of their community is not changed due to new development. Neighborhoods of lower-density old buildings, like the West Village, retain their popularity, charm, and high property values thanks to strong legal barriers against change that could lead property values to depreciate. While these barriers may discourage and prevent developers from reaping larger profits by building higher and larger, they also ensure that existing residents' investment in their condos or homes will remain more stable.
The, economic success of New York on a global scale and its continuing construction boom has led to the demolition of many non-residential commercial landmarks that might have otherwise qualified for landmark status had New York not been as successful. In the words of Professor Kenneth Jackson: 15
.
History is for losers. By that I mean, cities which have chosen to preserve all their historical monuments and locations usually do so because no one else wants the land to develop. Modern progress has passed them by. New York's history doesn't litter the streets visually, it can be hard to find sometimes, but that is because the city is an economic winner on a global scale.
.
New York is indeed a winner "on a global scale," with Wall Street as a symbol of America's economic power, the United Nations as a symbol of political power, and the city's over three million foreign born as representative of power of immigration and globalization to shape a city. Nonetheless, this progress comes at a historic and aesthetic cost – the consequences of which are reflected in the dark and sterile skyscraper canyons of Midtown, the worsening congestion in cars and subways, and (more pressingly) this city's fragility when faced with ecological pressures, such as flooding, hurricanes, and climate change. At the level of historic preservation, this progress comes at the cost of losing New York's distinctive architectural heritage to the force of globalized change. The Gilded Age mansions on Fifth Avenue and the built-to-last-forever Penn Station are gone, as are the picturesque skylines and distinctive ethnic neighborhoods of Berenice Abbott's 1930s photographs. The New York of today is different – whether it is architecturally poorer for progress can only be judged in retrospect. Historians prefer not to speak of what-ifs when writing about history, but would it have been possible to accept the benefits of progress without sacrificing history? This, however, is a question beyond the limits of data to contemplate.
.
.
Links to Resources
The original datasets can be viewed or downloaded below:
.
Footnotes
This author is not affiliated in any way with NYC Open Data, LPC, or the New York City government.