Could the movement of people in the New York City subway system be visualized as rhythmic breathing?
Linguistically, we often describe cities in relation to the human body. Major roads are described as "arteries" in reference to blood flow. The sewers are the city's "bowels." Central Park is the "city's lungs." At various times in history, key industries like textiles or finance, were described as the "backbone" of this city's economy. Although cities are complex organisms. wordplay makes the giant metropolis somehow more human and familiar.
The 424 subway stations and 665 miles of track are analogous to the human circulatory system. Every weekday, the subway carries 5.4 million people, mostly to and from work (c.2018).  This movement during the daily commute is highly ordered, structured, and rhythmic – as Manhattan's population swells during the daily commute and then contracts by night. Each passenger symbolizes the movement of a single blood cell, operating as one cellular unit in a complex system. With each paycheck, the oxygen of capitalism flows from the heart of Manhattan to the cellular homes in the outer boroughs.
Commuting patterns are analogous to the rhythmic expansion and contraction of the human body while breathing. By contrasting weekday and weekend ridership patterns, we detect the city's respiratory system.
.
sounds of breathing, heartbeat, and subway are from freesound.org
In this animation based on subway ridership statistics by station:
● Dots are color-coded according to the subway lines they serve.
● White dots are for junctions between two or more lines of different color.
● Dot size corresponds to the number of riders entering each station within a 24-hour period.
● Larger dots are for busier stations. Smaller dots are for less busy stations.
Maybe the visual language of data can address this deeper need to humanize and soften the concrete jungle.
.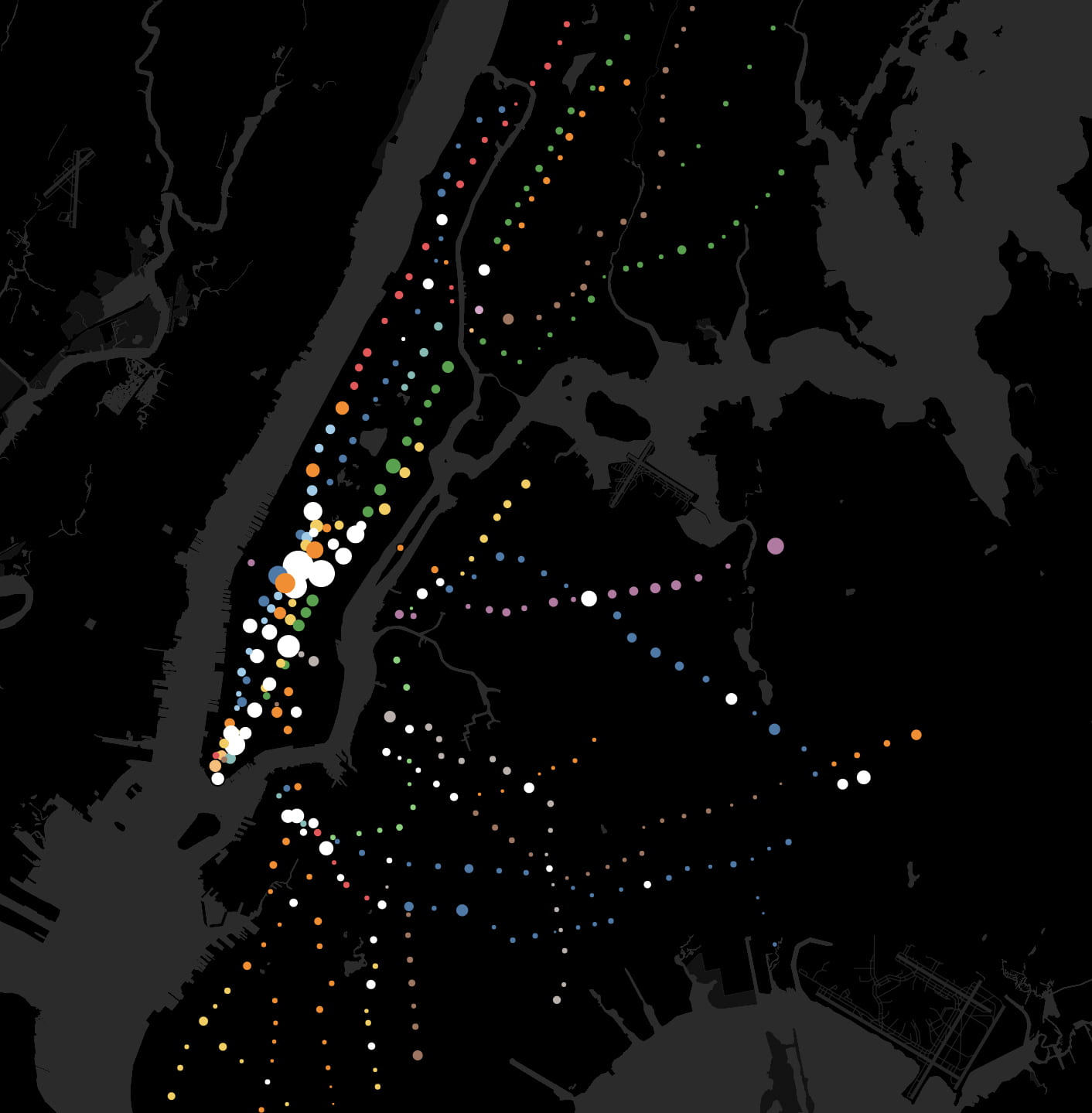 .
.
.
.
.
Sources
.
Interactive Map
.
Research Methodology
In the video below, I walk you through how I manipulated MTA and NYC open data to create this animation.
.
.
The Metropolitan Transit Authority (MTA) publishes data on the weekday and weekend (Saturday + Sunday) ridership at each of its 424 stations. These statistics, updated yearly, are publicly available and can be analyzed to track trends in movement and urban growth. I downloaded the MTA data and assigned each station a geographical coordinate (latitude + longitude). I then imported this data into software called Tableau, manipulated it, and then exported it as a film.
I have a love-hate relationship with the New York City subway, like many who claim to be citizens of Gotham. At rush hour, it is crowded, hot, and often slow. From years of riding its squeaky trains, it's given me a permanent ringing tinnitus in my ear. Despite its many flaws, the subway is one of the few urban spaces where all social classes, ethnicities, and immigrants mix, where their normally separate lives are momentarily shared. Rich or poor, almost all of us ride the subway. My hope is this animation renews people's (and my own) appreciation for this engineering and the people behind it.