A Map of Campus
.
This drawing depicts every building, window, tree, and architectural detail on campus as visible from a perspective 500 feet above the intersection of 110th and Amsterdam and looking northwest toward campus. The number of windows on each facade and details are faithful to reality. There are about 2,000 windows in this image and at least 50,000 individual lines. The image measures 26 by 40 inches and is framed in my room on campus. The personal objective of this project was to create a souvenir through which to remember my formative experiences and time at Columbia. I draw the world I find at Columbia so that, years from my graduation, I can look at this image and reflect on the four formative years I spent here.
The perspective in this image was formed by using Google Earth satellite photos combined with information extracted from Google Maps street view. To read an interview and article about this project, click here.
.
.
.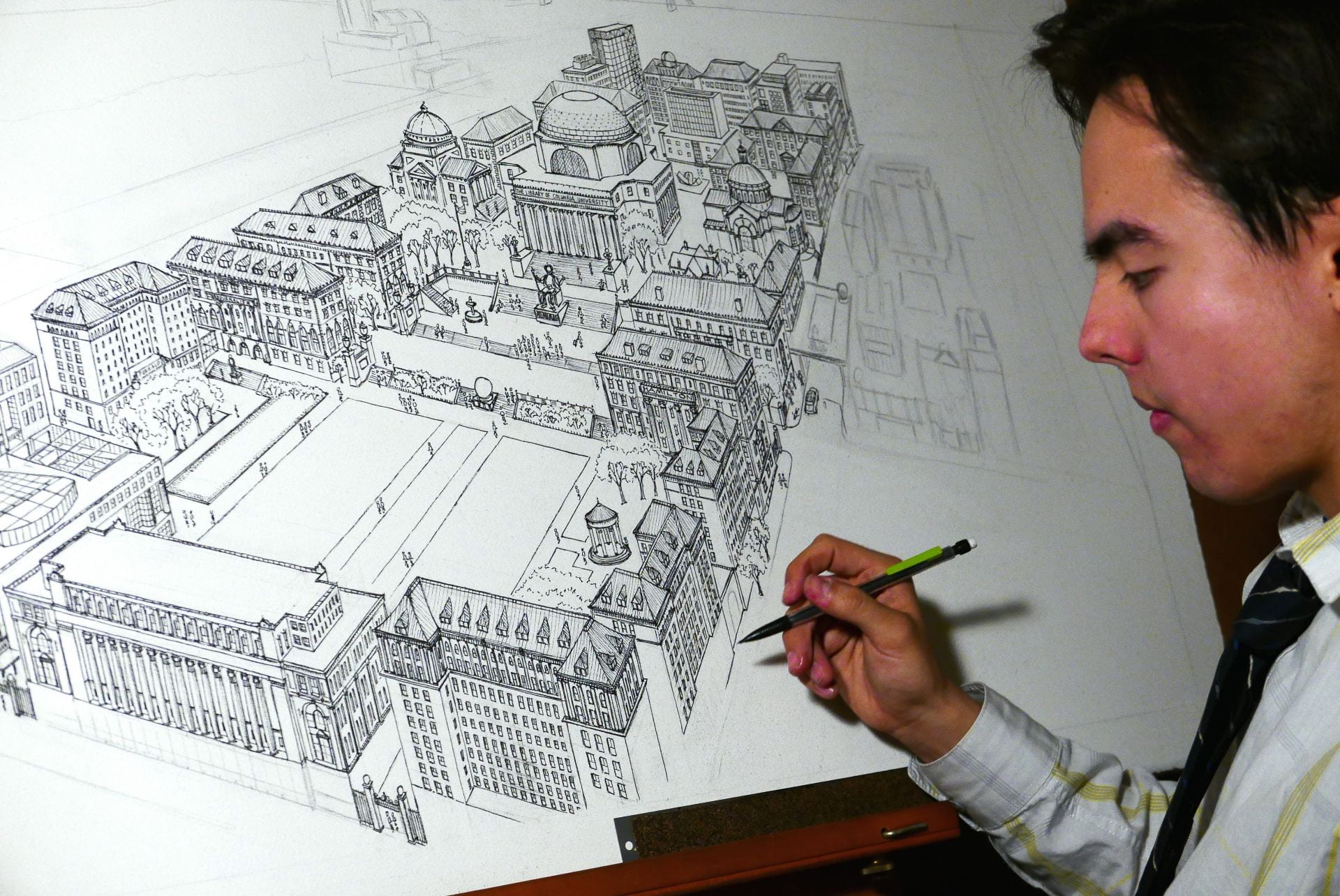 .
Columbia in a Box
.
Before my first day as a Columbia College first-year, I assembled a miniature model of Columbia's campus out of painted, folded, and glued paper. This creation, featuring most of Columbia's Morningside Campus, folds out of a vintage cigar-box that measures a mere 5 inches wide by 9 inches long, and 3 inches deep. The model was made by taking flat sheets of paper, etching the silhouettes of the campus structures onto each sheet, decorating these sheets with windows and architectural details, and then cutting out the silhouettes and folding each into the shape of the structure. Each building is made with no more than one sheet of folded paper.
.
.
.
.
.
.
Timelapses of Morningside
.
This project features six time-lapse sequences of Columbia University's Morningside Campus. I placed a camera horizontally above my desk as I drew and painted each watercolor.
.
.
.
.
Ink Sketches of Campus
.
.
.
.