Map created by author in QGIS with planimetric data from NYC Open Data
.
More than a specific threat to New York City, the decades-long erosion of public space is an existential threat to democracy.
About 60% of Lower Manhattan's surface area is listed as being public in some way, but only about 25% is totally unrestricted to the public in practice.*1
.
New York City – and the world's wealthiest corporations headquartered in Lower Manhattan – had much to do with inventing and spreading new technologies that influenced the urban form. Construction companies like US Steel at 165 Broadway supplied materials for the highways that sliced through cities. Car companies like Chrysler in Midtown encouraged America's affair with gasoline. Groups like Chase Bank at 28 Liberty Street supplied home loans for whites-only suburbs. Stores like Woolworth at 233 Broadway helped replace small businesses on main street with one-stop department stories and suburban shopping malls. Above them all, the New York Stock Exchange at 11 Wall Street supervised the twentieth-century migration of wealth and capital from American industrial cities to foreign countries with cheaper labor. These changes might have started with the "titans of industry" perched in Lower Manhattan's skyscrapers, but highways, cars, home mortgages, shopping malls, and de-industrialization all had consequences for the rest of us. This makes Manhattan the ground zero – and in more ways than just September 11 – to understand the forces shaping the loss of public space.
Over the past century, three forces in Lower Manhattan have been chipping away at the quantity and quality of public space: the car, the corporation, and the police state. Each of these three forces effected Lower Manhattan in particular and the nation at large. Each of these three forces, prompted by changes in technology, reshaped the urban form: 1) the invention of the affordable and mass-produced car that substituted for public transit; 2) the abandonment of cities for suburbs that was enabled by the car and encouraged by corporations; and 3) the invention of surveillance technologies to collect, store, and analyze data collected from public spaces. Each of these three technologies were, in turn, weaponized against the urban form to chip away at spaces that once belonged to society at large but which now belong to a select few. Each force will be analyzed in turn – the car, the corporation, and the police state – to reflect on the impact of each on Lower Manhattan's urban form.
.
Public spaces in theory:
~60% of Lower Manhattan's surface area
.
The street as public space
Pedestrians in American cities are confined to sidewalks. Most of the street is for cars. For instance, Manhattan avenues are ~100 feet wide with the middle 70 feet for cars and ~15 feet on either side for pedestrians. Pedestrians walking in the street risk possible death. After a century of the automobile, pedestrians are hard-wired that they must use only the sidewalk.
However, city streets before cars had a more democratic role in urban life. Old films of Lower Manhattan streets in 1911 show pedestrians walking wherever with little concern for the hard edge between sidewalk and street. Before the car, there were no one way streets in Manhattan, no traffic lights, no speeds limits, no road markings, and no crosswalks. There was no need for these features either. Nor was there a need for traffic engineers to optimize the timing of lights and direction of streets. Instead, the street without traffic laws was for everyone: horse-drawn carriages, trolleys, omnibuses, and pedestrians. With residents in dense tenement areas unable to access public parks and playgrounds, the street doubled as recreational space and as an extension of the sidewalk. With lower traffic speeds (horses move ~10 miles per hour), there was little risk of traffic accidents and pedestrian injuries. Fewer vehicles to begin with further allowed streets to serve multiple purposes with large avenues cluttered with pedestrians and traffic, while less busy side streets were alternative sidewalks.
.
Public spaces, not counting areas for cars:
~35% of Lower Manhattan's surface area
.
1. Public space lost to cars (1900 to 1945)
Introducing mass-produced cars had consequences for street life. Firstly, traffic accidents increased year on year and pushed pedestrians to the sidewalk. New York City traffic deaths went from 332 in 1910 to 1,360 in 1929 (source, p.73). Crossing the street against moving traffic became dangerous, and using the street was governed by specific rules about speed limits and parking zones. Expanding the police state was needed to enforce these rules – that is, traffic cops. Not only were drivers punished with traffic laws, pedestrians could no longer use the street with the same freedom they had before the car.
Secondly, specific and class-based rules developed for using public space. The car was a measure of social class: The car owner would, by necessity, need to have enough income to buy a car and enough space to park it. This, in turn, restricted most urban residents from owning cars and using the public space given to car owners.
By the 1930s, Robert Moses was adding hundreds of new parks, pools, and public spaces to the city. But this expansion of public space in some areas must be measured against the contraction of public space in other areas. At the same time, Moses was clearing dozens of neighborhoods for urban renewal projects and highways. "Cities are created by and for traffic; a city without traffic is a ghost town," he said. The value of public space must also be assessed by the rules that govern it. The city was taking away the free-form public space of city streets and was adding public space subject to new rules: Park closed from sunset to sunrise. Do not walk on the grass. No dogs allowed. No skateboarding. Children must be supervised.
Before the auto age, Lower East Side immigrant children played on streets within sight and sound of parents in tenements. Think of the 1969 advertisement for Prince Spaghetti that illustrates an immigrant culture of active and car-free street life. Today, play means a trip to the park with parents for supervised play in a gated enclosure. The car (among other causes) was the technology in urban life that transformed play from an independent activity in the public street to a regulated activity in designated playgrounds.
.
The "Anthony! Anthony!" commercial for Prince Spaghetti shows a boy running home from play in the streets. The ad invokes nostalgia to encourage consumer spending on processed food. Ironically, it was this consumer spending at suburban supermarkets that was eroding the urban street life and small businesses represented in the ad. By abandoning the street and theater culture of cities for suburban living rooms with entertainment on TV, the American public was turning away from the very traditions represented in this ad.
.
In 2008, 66% of New Yorkers (~5.5 million) commuted by walking or public transit. By contrast, 27% of residents in peer cities like Boston and San Francisco used walking or public transit for work. (source, p.72)
Of Manhattan's 20 square miles, 36% is for public streets (source). An average Manhattan street gives two thirds of its surface area for cars and one third for pedestrians. So, of the 36% of Manhattan that is public streets, about one third of that is for pedestrians: 12% of available land.
Why are two thirds of all streets in Manhattan for cars when only 22% of Manhattan residents own cars? (source) Should the division of public space in streets be proportionate to the percentage of residents who own cars? Why are the majority of residents confined to the sidewalks that represent the minority of available space?
Taxes on New York City residents pay for paving the ~6,000 miles of roads and salaries for thousands of traffic police. Yet, most residents do not own cars. And most cars are either commercial vehicles on business or the private vehicles of non-New Yorkers commuting to work. In effect, urban residents are taxed for public space they do not use. At the same time, the non-New York commuters who use these streets do not pay for their upkeep. In other words, giving most public space to cars and taxing urban residents for its upkeep is a subsidy for suburban and business interests. Manhattan is the world's most valuable real estate; there is no reason that the fraction of public spaces that remain should be given to private interests, too.
The city needs a redistribution so that the percentage of public space that is given to cars is similar to the percentage of New Yorkers who own cars. As designer and architectural critic Michael Sorkin writes in Twenty Minutes in Manhattan, a 2009 book about his experiences walking:
There is not exactly a biblical injunction that specifies the proportional division of the cross section of the block, nothing that requires that cars be given three times the space of pedestrians. Of the four lanes reserved for vehicular traffic, two are parking lanes. On our block – as with most blocks in New York – there are no meters, and parking is available on a first-come, first-served basis. The city, in effect, provides half the area of the public space on my block for the storage of private cars, and approximately forty will fit when all the spaces are occupied. The diversion of public space – some of the most valuable real estate on the planet – to the private interests of the least efficient and most dangerous and dirty means of movement in the city is a fundamental affront to the real needs and habits of New York's citizens, the majority of whom do not own automobiles.
.
Public spaces, not counting areas for cars, not counting semi-restricted or privatized public spaces: ~25% of Lower Manhattan's surface area
The site of the World Trade Center complex forms a large hole because the space is owned by a government agency but is managed by corporations. Details of privatized spaces are pulled from map of Privately Owned Public Space and official zoning and land use map.
.
2. Public space lost to the private sector (1945 to present)
In addition to reducing the amount of public space, cars empowered the migration of people, industry, and wealth from urban centers to the suburban and rural edge. In the decades after WWII, New York City lost a population of three million white people. Prominent industries relocated, such as Bell Labs that moved from Greenwich Village to new corporate campuses in suburban New Jersey. At the same time, as lower- and middle-class whites drove out of the city on bands of asphalt, minorities and immigrants with lower incomes and less consumer spending moved in. The net population loss increased poverty and made urban neighborhoods less desirable, causing consumer spending and property values to fall.
By the 1970s, the city was challenged with decaying public parks, public schools, city services, and infrastructure. But it did not enough revenue to make improvements. The city took out loans and cut back on public services like graffiti removal, causing a downward spiral with further decay of public spaces, further losses in the values of neighboring properties, and therefore less income from property taxes to pay for public services. With billions in debt and no revenue to pay off this debt, New York City wobbled within hours of bankruptcy in 1975. President Ronald Reagan's inaugural address in 1981 captured the spirit of economic crisis:
Great as our

tax bur

den is, it
has not kept pace with public

spending. For decades we have

piled deficit upon deficit, mortga

ging our future and our children

's future for the temporary

convenience of the present. To continue this

long trend is to guarantee tremendous social,

cultural, political, a

nd economic upheavals.

[….]

In this present crisis, government is not the

solution to our problem; government is the problem.
Reagan condemned what he saw as the over-expansion of government into all aspects of American life: welfare, taxes, regulations, and civic spaces. During his eight years as president, he supervised the largest rollback of public services in American history. With the belief in "small government," Reagan cut back on welfare to minorities, government regulation of airlines, and government funding for infrastructure and public space. With the desire to create a "free market" for corporations to compete, Reagan announced in his inaugural address that "i
t is time to reawaken

this industrial giant, to get gove

rnment back within its means,

and to lighten our punitive tax burden

."
More broadly, Ronald Reagan's policies in America and Margaret Thatcher's in Britain gave birth to the political philosophy of neo-liberalism. Neo-liberalism believes that government is too large and that private industry can do a better job than government caring for the public good. Therefore, public services like water, electricity, parks, railroads, highways, and healthcare should all be entrusted to corporations. Following presidents like Bill Clinton followed Reagan's lead by slashing taxes and de-funding public services, while shifting management of many public services to the private sector. As Noam Chomsky describes: "That's the standard technique of privatization: defund, make sure things don't work, people get angry, you hand it over to private capital."
.
How much of our cities belong to We The People?
.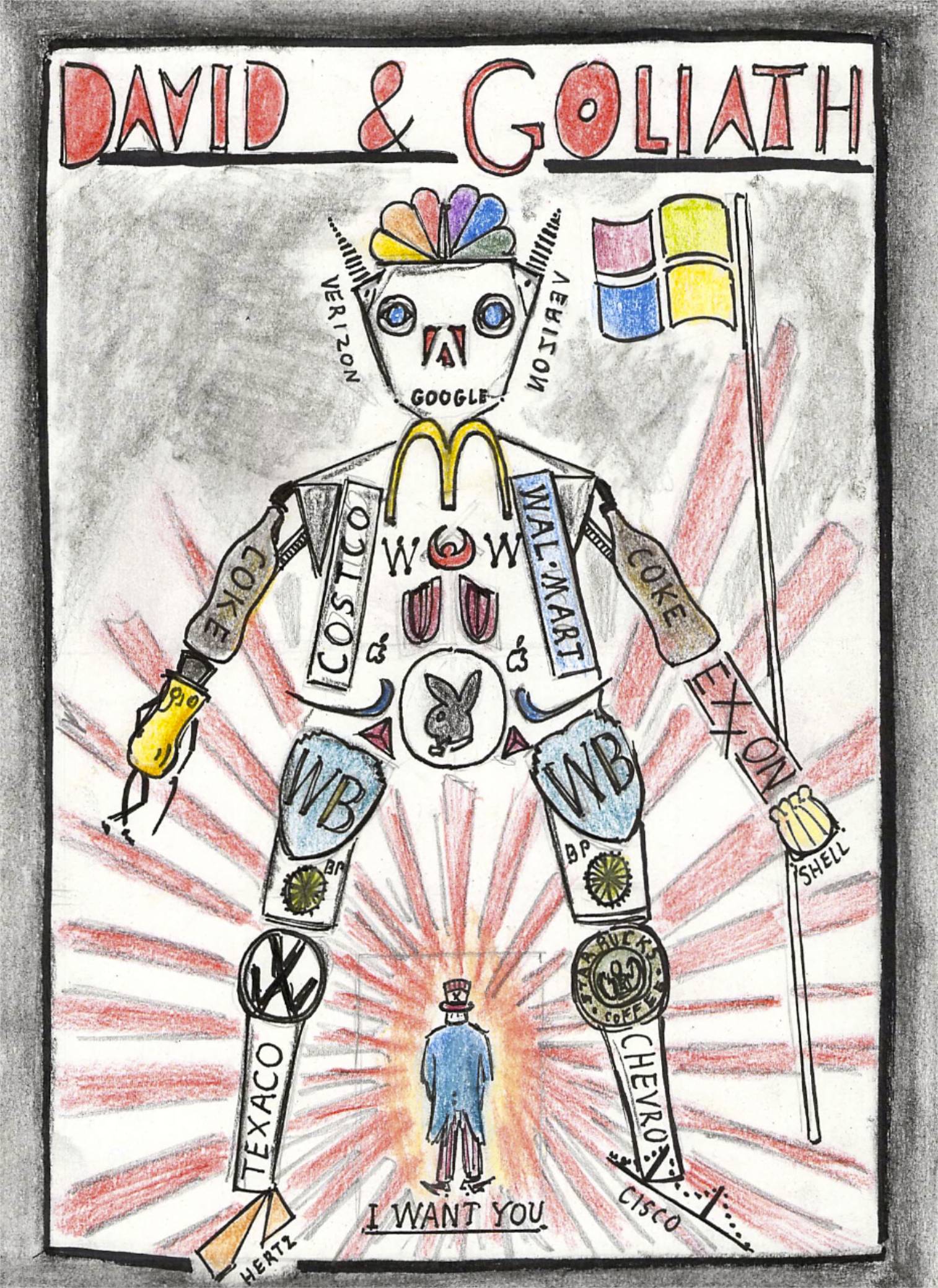 .
3. Public space lost to the police state (2001 to present)
The previous two assaults on public space by cars and corporations could be combated through reason and policy. Cars threaten pedestrians and control too much of the street? Add a speed limit and traffic calming measures. Corporations control too much public space? Pass laws restricting them from, say, harassing protestors and closing public spaces by night. The alliance of corporations and state have too much surveillance? This is a more difficult threat to fight. Corporations and the state resist public demands through the language of "free choice." This street has cameras on it, but you can choose to walk somewhere else. This airport searches all passengers and steals their "contraband" possessions like shampoo, wine, and food, but you can choose other means of transport. This social media platform monitors your activity to give you advertisements that will make you insecure, angry, or depressed – whichever emotional response will bring the advertiser profit. But you chose to use social media. The rhetoric of "free choice" suppresses criticism of surveillance in public space. Besides, surveillance is for "our your own safety," so we are told. And if we are not doing anything bad in public spaces, then we should have nothing to fear, so we are told.
However, in Manhattan specifically, constant surveillance erodes the most important feature of urban life: privacy. As E.B. White described in Here is New York, his 1949 reflection on walking in Manhattan: "On any person who desires such queer prizes, New York will bestow the gift of loneliness and the gift of privacy. It is this largess that accounts for the presence within the city's walls of a considerable section of the population." Anonymity is one of the greatest joys of walking, the joy of blending into the urban crowd while remaining anonymous to everyone, to see without being seen. By forcing knowability and tracking the exact location and actions of every individual, the surveillance state erodes the anonymity that has drawn generations of artists, activists, and social outcasts to world cities like New York. From Occupy Wall Street protestors, to undocumented immigrants, to generations of Blacks and Hispanics that are targeted by law enforcement, surveillance denies them the anonymity that their work and use of public space require. In the past year, the murder of Blacks by law enforcement while shopping, driving, walking, and even sleeping has highlighted the dangers minorities face when using public space. While the car and corporation eroded the physical amount of public space, surveillance erodes the quality of public spaces that remain.
.
Public spaces in theory vs. in practice
Of the public space that occupies ~60% of Lower Manhattan's surface area:
~25% is for cars; ~10% is semi-restricted or privately-owned; ~10 is for green space in parks; ~15% is for paths in parks and sidewalks along streets *2
.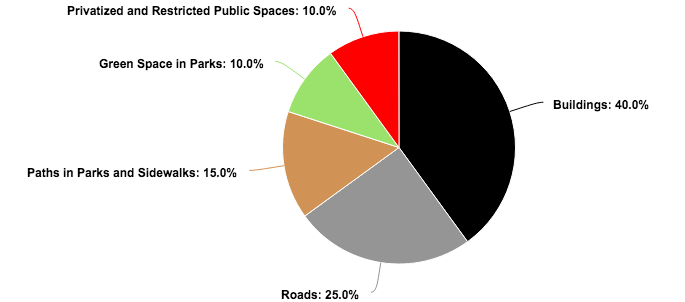 .
Can democracy survive with eroded public space?
The past thirty years have seen the return of large numbers of middle class young people to New York City, as well as the gentrification they brought. For a few years, there seemed to be a resurgence and reinvestment in public space with new bike lanes, parks, and traffic calming measures in Lower Manhattan. But just over a century since the car arrived in Lower Manhattan streets, the future of public space is again in doubt.
Coronavirus represents both an opportunity and a challenge for public space. Since the virus prohibited indoor dining, thousands of restaurants have expanded onto sidewalks. Entire lanes of parking have been transformed into dining areas, a change that will likely be permanent. While using a parking space requires several thousand dollars to participate in the club of car owners, using a restaurant built on a public space costs only as much as lunch or dinner.
At the same time, the political uses of public space have migrated online. The activities of courtrooms, classrooms, cultural events, and ways people express their dissatisfaction with government have all migrated to online forums and social media. The internet might substitute for some public spaces, but it is not owned by the public. The US Bill of Rights promises that the accused has the right "to be confronted with the witnesses against him" during a "public trial." For generations, a public trial has meant a real space where witnesses voice their accusations in the physical presence of the accused. But can a digital space owned by private company still be considered public? Can the proprietary technology of social media and the video camera substitute for actual public space? Is the World Trade Center Path Station still public space if most Americans are priced out of shopping in nearby stores? Is the High Line still public space if the only people who can afford apartment views of it are the super rich?
E.B. White would cite that diversity and democracy cannot exist without public space. In his stroll across dozens of Manhattan neighborhoods, he observed that urban life forces people of diverse identities into the same crowded public spaces and therefore requires them to coexist and be tolerant of each other:
The collision and the intermingling of these millions of foreign-born people representing so many races and creeds make New York a permanent exhibit of the phenomenon of one world. The citizens of New York are tolerant not only from disposition but from necessity. The city has to be tolerant, otherwise it would explode in a radioactive cloud of hate and rancor and bigotry. If the people were to depart even briefly from the peace of cosmopolitan intercourse, the town would blow up higher than a kite. In New York smolders every race problem there is, but the noticeable thing is not the problem but the inviolate truce.
Time and again, researchers and writers observe that social media and the digital world allow people to self select the communities they are part of and the political views they are exposed to. The rise in both political parties of polarized identity politics and intolerance of anyone who disagrees with one's views on gender and race are largely the products of a social media world that isolates and radicalizes people.
Public spaces like the city street and subway car mix people of all identities and incomes in a single space and are a lesson in tolerance. It is easy to hate foreigners and people of color when one's views of these groups are filtered through the polarizing lens of social media, Fox News, and the mainstream media. But prejudice is a good deal harder to feel when one views these groups every day in public spaces going about the same routine as everyone else. While social media highlights the identity politics that make us different, public space highlights the qualities we share in common.
The loss of Lower Manhattan's public spaces is not just a threat to urban culture. The loss of public space is an existential threat to democracy. More than ever before, this fractured country needs public space.
.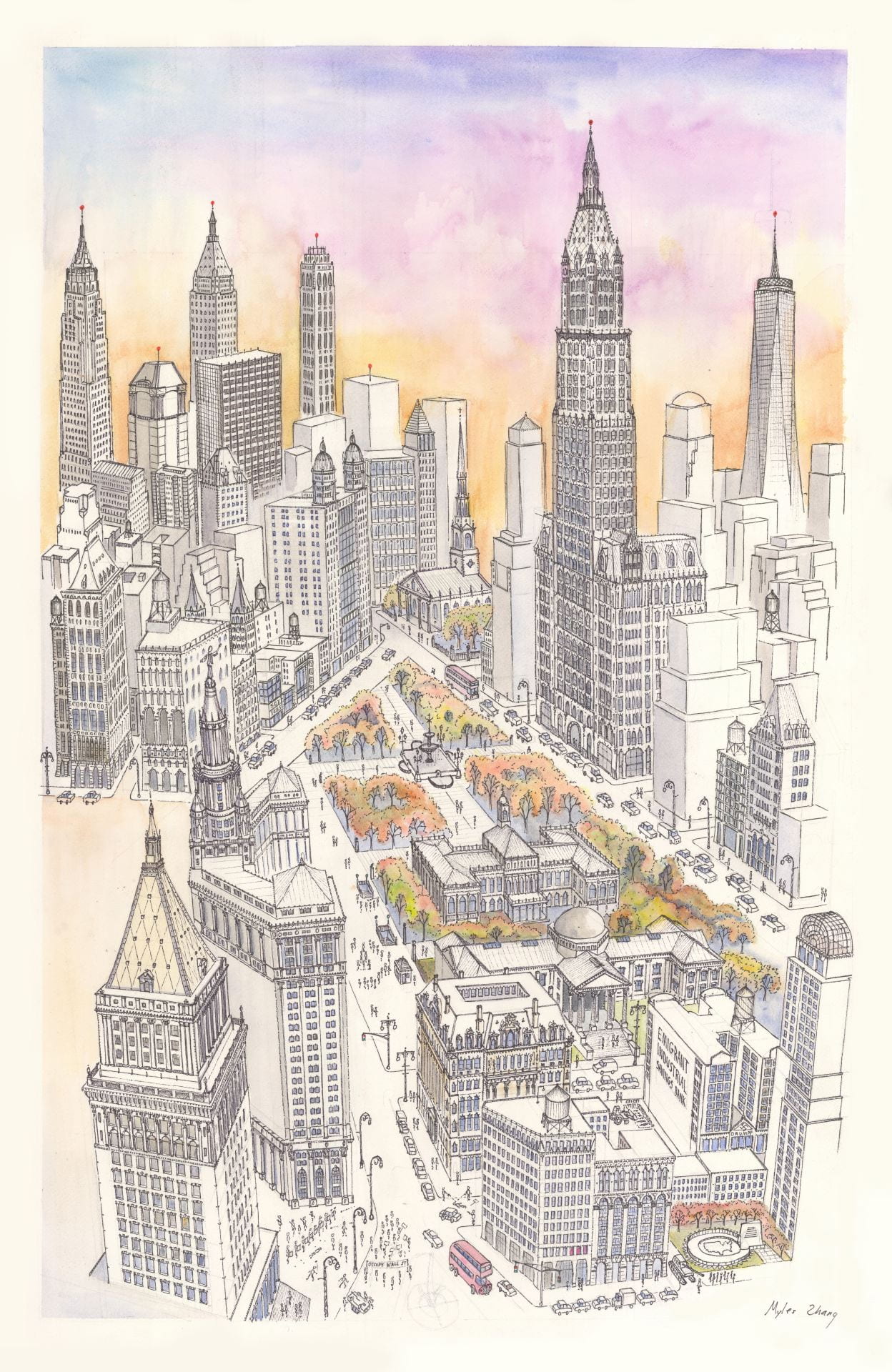 City Hall Park and skyscrapers in Lower Manhattan
.
"With increased use of automobiles, the life of the sidewalk and the front yard has largely disappeared, and the social intercourse that used to be the main characteristic of urban life has vanished." – Kenneth T. Jackson
.
Further reading
.
236,250 = total   |   92,934 = water   |   143,316 = land
Non-public before: 55,558 = 38.8% (rounded to 40%)
Non-public after: 90,826 = 63.4% (rounded to 65%)
* Percentages are rough estimates from author, based on area south of Chambers Street with planimetric data from NYC Open Data. An exact estimate is impossible to arrive at because there is no single definition of public space. ↩
. ↩