As featured in:
.
James Street Commons demolitions completed and proposed as of April 2021
.
Note: Visiting NJIT's architecture school at age six and seeing students working there was what initially inspired my desire to study architecture. NJIT is an asset to Newark, and the school deserves the quality of campus architecture to match. I wrote and circulated this essay about NJIT's under-performing campus design to members of NJIT and the Newark community. I am sharing it online, too, in the hope that future leaders of NJIT will collaborate with the community to create campus architecture that is culturally and historically sensitive to Newark.
.
A Pedestrian's Observations
Experiencing NJIT's campus from the street
In publicity materials and in meetings with Newark residents and historians, the New Jersey Institute of Technology emphasizes the quality of its campus architecture and its track record of historic preservation. The school highlights its Central King Building (formerly Central High School) and Eberhardt Hall (formerly Newark Orphan Asylum) as trophies of historic preservation.
However, beyond its fortified campus carved out during the 1960s era of "urban renewal," the university is now escalating its demolitions in the neighboring James Street Commons Historic District. Listed since 1978 on the National Register of Historic Places, this neighborhood is the city's first historic district and contains some of Newark's most significant historic assets. The spending of millions of dollars on building demolitions is odd when NJIT faced a 35 million dollar budget deficit in the first half of 2021,[1] and when other Newark institutions and developers are following an opposite path of historic preservation.
As NJIT expands into the James Street Commons Historic District, there is concern that new construction will not improve the built environment. For instance, NJIT's proposal for 240 MLK included few to no windows at pedestrian eye level. The entrance to the parking garage and trash collection was from the side of the building that faced toward the residential neighborhood. Several other structures in the neighborhood are also at risk or have already been demolished by NJIT, such as Mueller's Florist, which was a former corset and tin toy factory built in the 1880s to 1890s. Similarly, NJIT acquired the c.1890 brownstone at 317 MLK for ~$450,000 in livable condition. In following weeks and months before NJIT received demolition approvals, windows were left open and removed, thereby accelerating decay and water damage. The current demolitions follow a longer pattern among hundreds of other buildings demolished in my neighborhood. This would all be okay if only there was better quality architecture to replace what is being lost.
I write this essay as a series of architecture observations followed by recommendations. Firstly, I provide examples of how NJIT's current campus design is detrimental to neighborhood street life. Secondly, I document the neighborhood's appearance before and after NJIT's interventions through my photo comparisons of past and present. Thirdly, I provide examples of more sensitive models for alternative neighborhood redevelopment.
.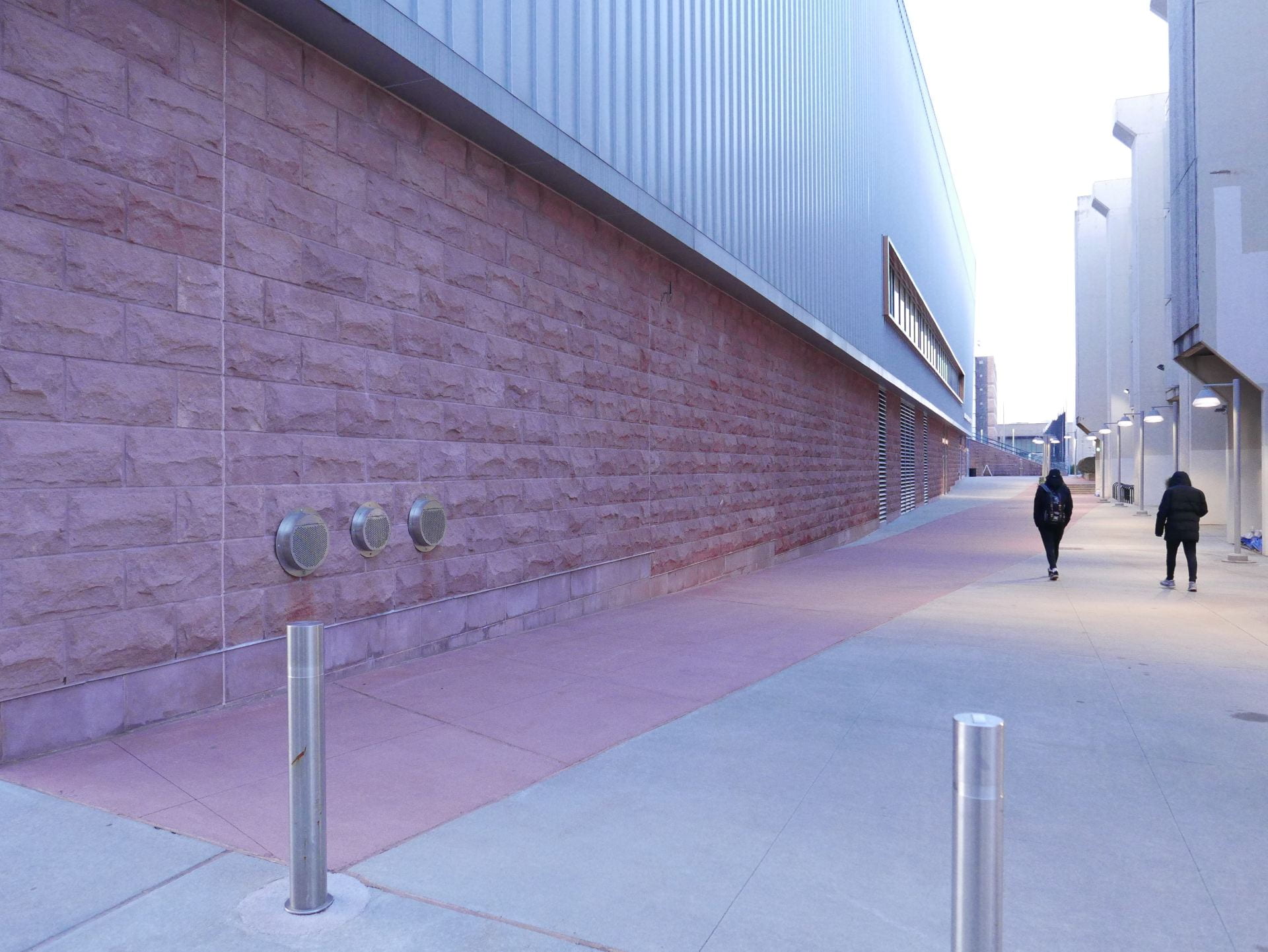 Completed in 2017, NJIT's athletic facility is the newest building on campus.
The pedestrian view along the sidewalk has no windows.
.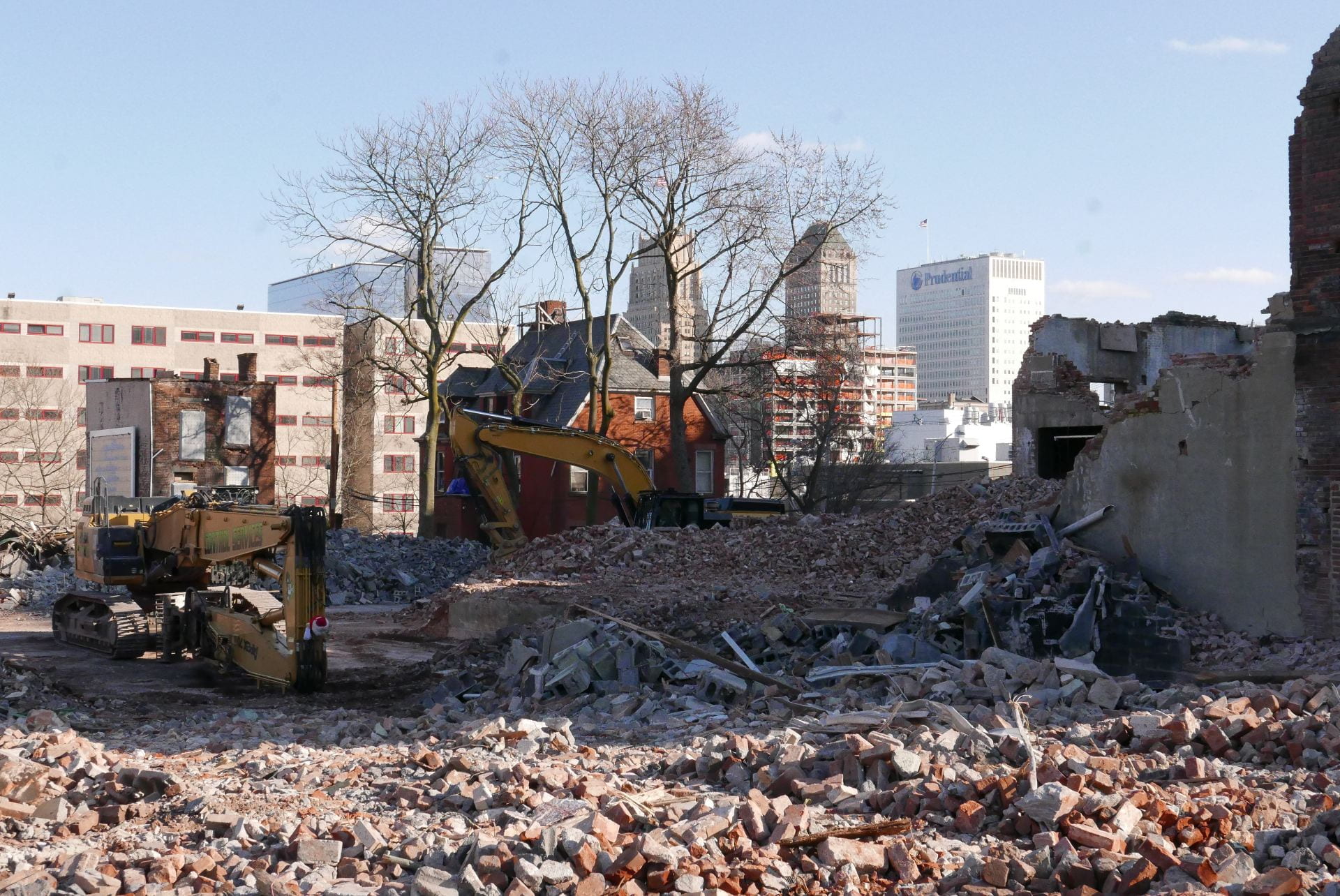 Demolition of the 140-year-old Bowers corset factory in progress (aka Mueller's)
.
Map of NJIT campus. Buildings that face toward the street with no windows at or near eye level are indicated with

red lines

. Surface parking lots and parking structures for commuter students and faculty are indicated with

red squares

.
.
1. Architecture of Fear at NJIT
NJIT's newest architecture does not actively promote urban street life. For instance, Fenster Hall opened in 2004 at a cost of 83.5 million dollars. The architect Charles Gwathmey told the audience at the building's dedication: "University buildings…have an obligation to give the campus a sense of place, and happily, that is what we are achieving here." The main entrance to Fenster Hall faces inward to the campus community. Meanwhile, the side that faces toward the neighborhood and city is the parking garage and eight stories of bare concrete that rise straight up with no windows at ground level.
.
.
The photo above is the side of Fenster Hall that faces toward the neighborhood. The emergency police call box and video surveillance signs might make out-of-town car commuters feel safe. But defensive architecture perversely has the opposite effect of making local residents, who must live with this architecture, feel excluded and surveilled.
Activist and urbanist Jane Jacobs wrote that attractive and safe neighborhoods to live in will always have "eyes on the street." In her ideal neighborhood, shop windows, apartments, and urban life always face to the street. In active and mixed-use neighborhoods where people both live and work, there is always 24-hour street life and therefore people looking from their windows onto the street at all times.
The blank walls and surveillance cameras surrounding NJIT's campus can be justified on grounds of public safety. However, hostile architecture that turns away from the city eliminates eyes on the street and, ironically, encourages the kind of crime it was built to defend against. In successful campus architecture, there will be reduced need for surveillance cameras.
.

The side of Fenster Hall that faces toward the city discourages street life and looks like a fortress. There once was a brick mansion here like the Ballantine House or Krueger-Scott Mansion.
.
.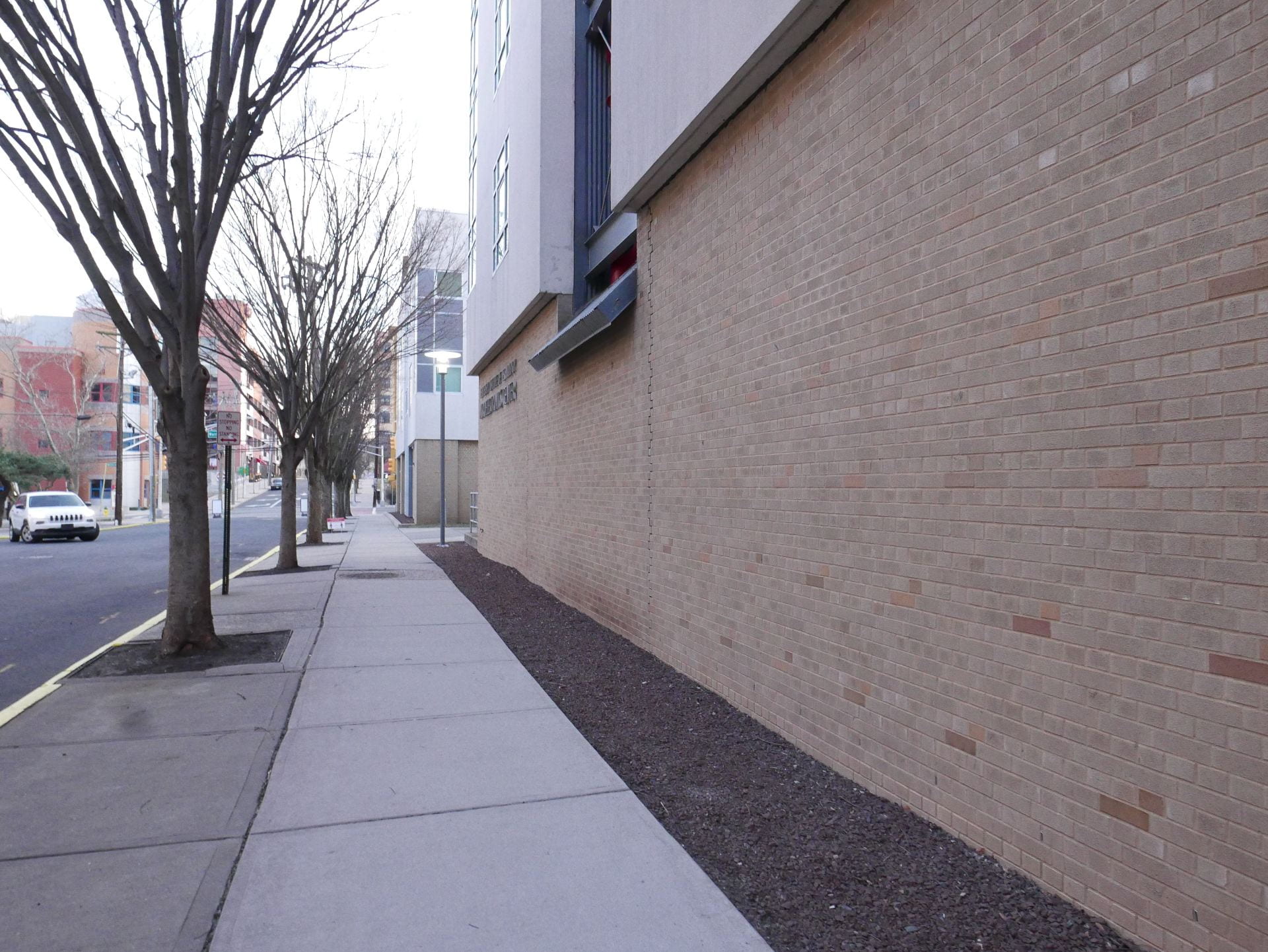 Sidewalk view of NJIT Microelectronics Center
.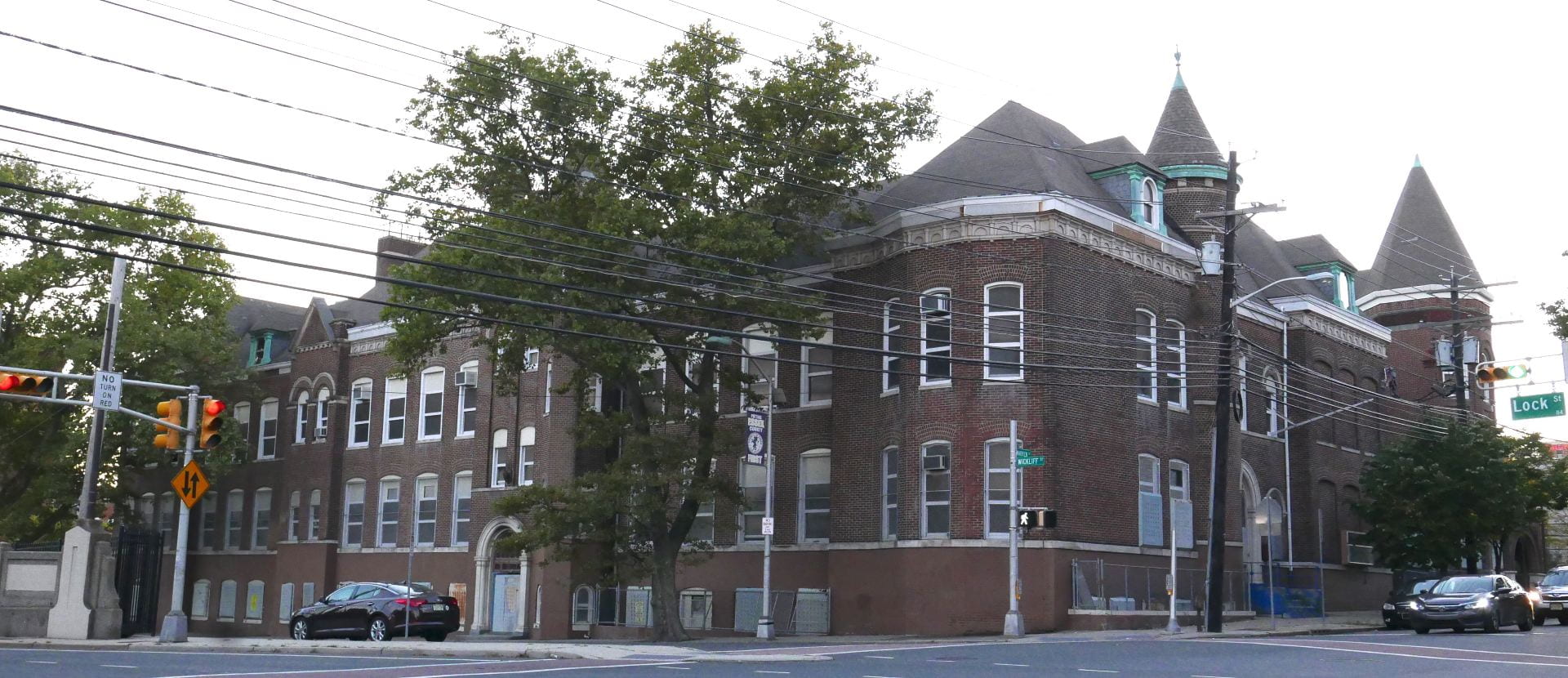 Warren Street School: NJIT says the building is too fire damaged to save.
The photo above shows the building after the fire.
.
| | |
| --- | --- |
| | and during NJIT's demolition |
.
| | |
| --- | --- |
| | and during NJIT's demolition |
.
Another project is the demolition of the Warren Street School for NJIT student dorms. NJIT announced demolition plans in fall 2020 on its website. The Warren Street School from the nineteenth-century is by Jeremiah O'Rourke, a resident of Newark and the same architect as Sacred Heart Basilica and some of the most important civic structures in the US. The Warren Street School passed preliminary review to be included on the National Register of Historic Places. It is also be included in Preservation NJ's 2021 list of the ten most endangered historic sites in the state.
As a final image, here is a photo past and present of NJIT's architecture school. At left is the Victorian structure named Weston Hall, built c.1886 as NJIT's first home. At right is the architecture school that now occupies this site. Originally, Weston Hall faced toward the street and city. Now, the current building at this site faces away from the city and presents its rear toward the public street.
.
| | |
| --- | --- |
| One of NJIT's first homes at Weston Hall[2] | was demolished and now looks like this. |
When NJIT's architecture school hosted a Regional Plan Association conference in 2004, the organizers were afraid that Mayor Cory Booker and attendees could confuse the permanently locked street doors for the building entrance, shown above at right. A note was left on the door: "Mr. Mayor, please enter through the door inside the campus."
.
2. The campus of NJIT before and after urban renewal
When the Historic Sites Council was reviewing recent demolition applications for old buildings in the James Street Commons Historic District, one of the commissioners asked: "If NJIT is taking something away from the community, what is it giving back?" This is a more fundamental question that goes beyond historic preservation. All buildings have a lifespan, and preservation is not always possible. But if a building is demolished, the building that replaces it needs to be higher quality and more actively contribute to the quality of street life than what was there before.
NJIT is a commuter school, and most educators who work at NJIT live outside Newark. This is unfortunate because Newark would benefit from having NJIT more involved in the local community. In some ways, NJIT community members who choose to live outside of Newark cannot be faulted because many Newark neighborhoods are not aesthetically pleasing. Therefore, it is in the school's own interest to make the surrounding neighborhood a more pleasant place to live, walk, and work.
Unfortunately, the photo comparisons below illustrate that the walkability and aesthetics of my neighborhood have deteriorated since the 1960s. Universities are drivers of upward social mobility, economic growth, and knowledge production. NJIT deserves credit for this. However, the university's built environment falls short of expressing progressive values. Architecture that presents a blank wall to the street does not benefit the city aesthetically. More crucially, this does not benefit the students' educational experience either. Architecture that turns away from the city communicates to students that the urban environment is not safe and not worth engaging in.
In 1962, after over ten years' preparation, the Urban Renewal Project NJ R-45 (Newark College Expansion), with federal capital grants of $7,674,309 and millions more of state and local bonds, displaced more than 1,300 families. Through eminent domain, the state demolished 87.5 acres of brownstones and historic structures next to the now James Street Commons Historic District. Five years later, the government expanded the urban renewal projects and displaced thousands more people for the campus of UMDNJ. The resulting civil unrest of July 1967 injured 727 people and killed 26. Newark's reputation still suffers from the legacy of urban renewal.
These photos were all taken in 1960 immediately before the neighborhood's demolition for NJIT. The wholesale demolition of old buildings, while unfortunate, was an opportunity to build back better. This opportunity was squandered with defensive architecture. Moving forward, NJIT must take every opportunity to shift toward a more inclusive and street-facing campus.
.
| | |
| --- | --- |
| Mueller's Florist in 1960[3] | Building demolition in 2021 |
.
| | |
| --- | --- |
| Intersection of Warren and Summit Street in 1960[4] | The site is now a parking lot and building with no street-facing windows at eye level |
.
| | |
| --- | --- |
| Warren looking west to High Street in 1960[5] | The same scene today. The university bookstore here has no windows to the street. |
.
| | |
| --- | --- |
| Summit Street above Raymond Boulevard in 1960, home of a paper box company[6] | Now a multi-story parking garage for commuter students and faculty |
.
| | |
| --- | --- |
| 251 to 245 MLK in 1964[7] | Now a parking lot for St. Michael's and NJIT |
.
Summit Street and New Street in 1960[8]

The winch used to lift up bales of hay is visible in the upper left of carriage house.

Fenster Hall now stands here.
.
| | |
| --- | --- |
| Intersection of Bleeker and Hoyt Street in 1960[9] | Department of Mechanical and Industrial Engineering |
.
3. A sensitive development model by Rutgers Newark
Rutgers made urban renewal mistakes in the past. But with a new university administration, the school is learning from past mistakes and becoming a better citizen of Newark.
.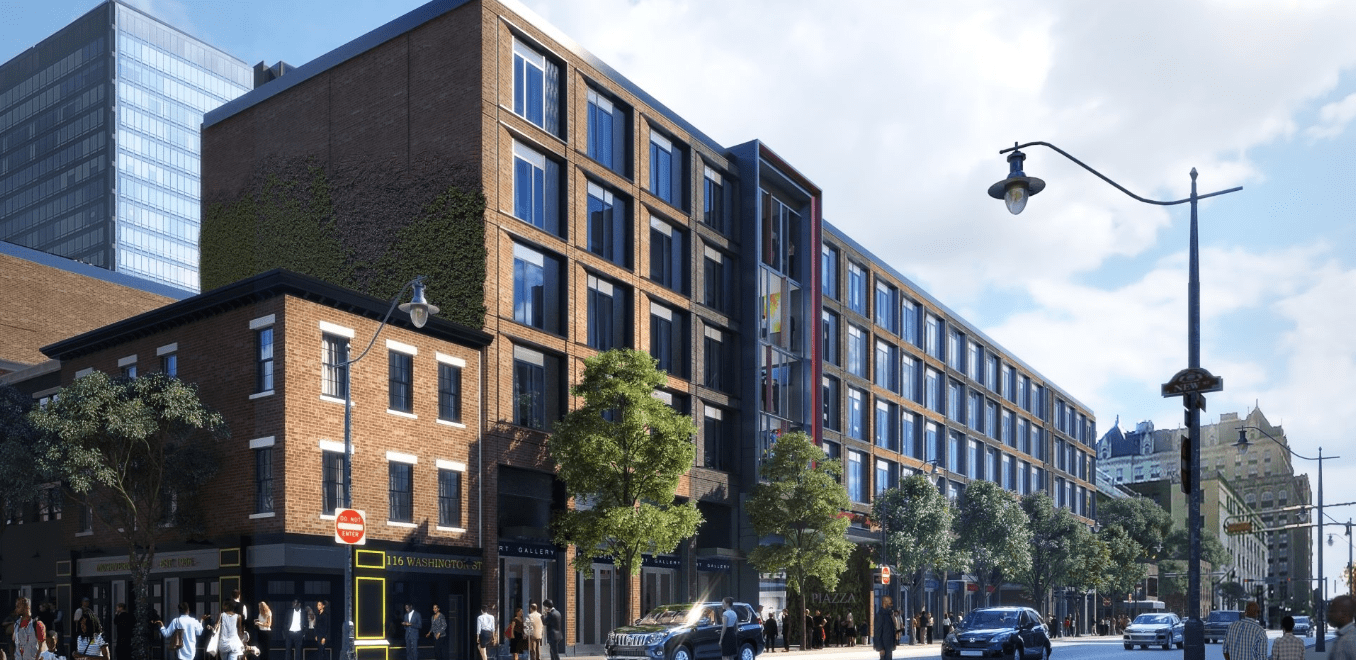 Rutgers Living-Learning Community (Image courtesy of RBH Group)
.
Completed just last year is Rutgers' Living-Learning Community on the full block just next door to the Hahne's Building. At this site within the same James Street Commons Historic District as NJIT's continuing demolitions, Rutgers inserted new student housing as infill within the urban environment. Existing structures at three of the four corners of the site help to mask the scale and mass of the new construction. The building is not too tall, includes ground floor stores, and employs brick materials and floor heights that mirror the neighboring brownstones and businesses from the nineteenth century. The result is a project of high quality that not only responds to its environment but actually feels safer and more pleasant to walk past.
.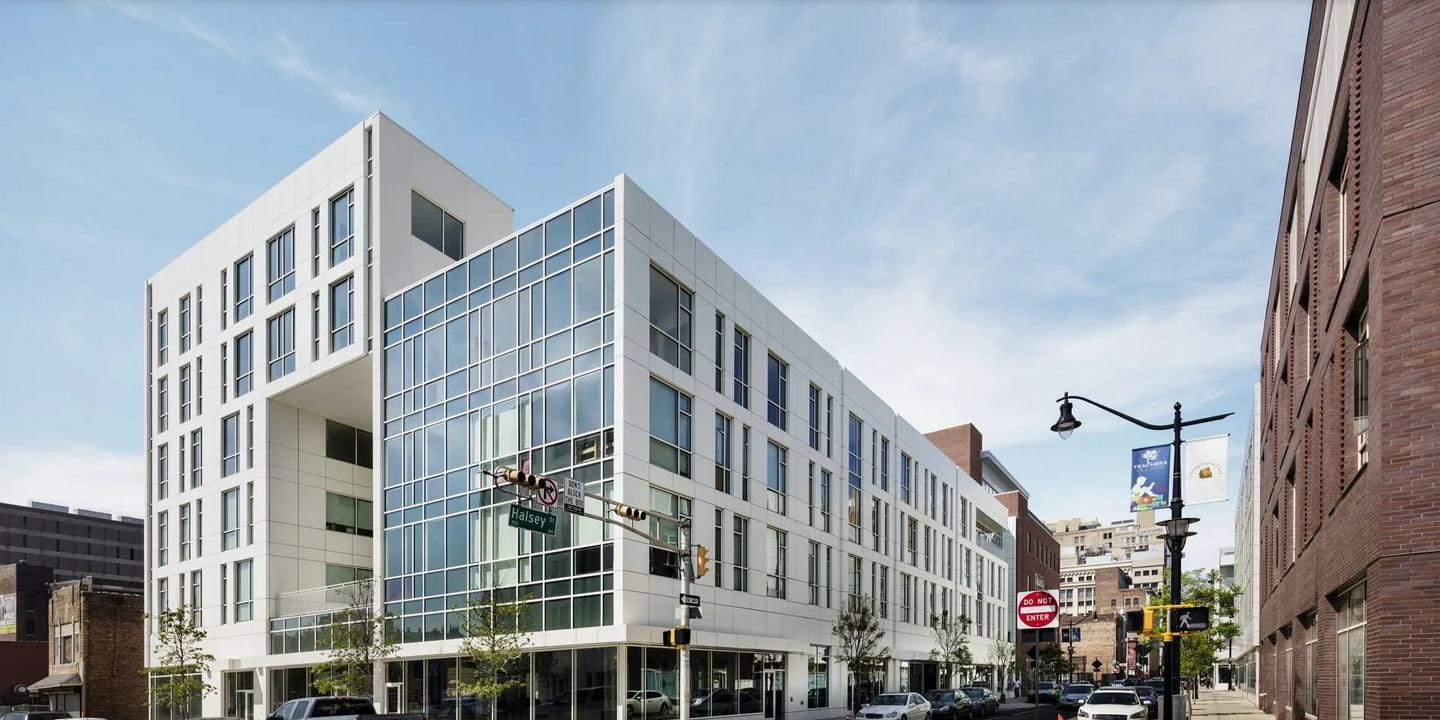 Teachers Village (Image courtesy of RBH Group)
.
Similarly, the Newark Teachers Village by Newark-born Richard Meier looks toward the street and stimulates street life with ground floor activities. The project is a first in Newark because it is targeted at encouraging educators to live in the community where they work. The developer was selective about preserving some old buildings to create a more visually rich and organic streetscape of old and new. The average building is no higher than four to five stories and includes frequent setbacks and varieties of materials. Although construction of the NJIT campus displaced an entire neighborhood, there is the opportunity for new construction to resemble the quality of urban life that was lost.
.
Urban renewal done wrong:
NJIT's Cullimore Hall on Bleeker StreetMost of the façade has no windows and detracts from the quality of street life.Those boxes at sidewalk level are mechanical equipment.
Urban renewal done right: Rutgers' Bleeker St. brownstones just one block from Cullimore Hall.These are a few of the brownstones that Rutgers fixed up and turned into university offices. The building entrances all face toward the city. Rutgers put a flowerpot at sidewalk level.
.
Urban renewal done wrong:
Warren Street SchoolThis school was built in the 1890s by Jeremiah O'Rourke. NJIT demolished this landmark.
Urban renewal done right:
Old St. Michael's HospitalThis hospital was built in the 1880s by the same Jeremiah O'Rourke. The Hanini Group is renovating this building.
.
Old St. Michael's Hospital and Warren Street School are two vacant and landmarked buildings by the same architect, built with the same method of brick construction, in the same neighborhood, and at the same period of time. However, one of these buildings is being demolished by NJIT while the other is being saved. The Hanini Group is transforming St. Michael's Hospital into apartments and an arts center. Adaptive reuse of the hospital might be more expensive than demolition, but the success of a project must not be assessed on profit alone. As a non-profit and educational institution, NJIT needs to think longer term about higher quality projects that might have lower profit margins.
.
Urban renewal done wrong:
NJIT Fenster HallParking garage at Fenster Hall: The rock landscaping in the foreground and the bare concrete wall are unpleasant to walk past.
Urban renewal done right:
Rutgers Living-Learning CommunityRutgers' new parking garage: There are street trees, brick walls, and shop windows at ground level.
What sets NJIT's Fenster Hall and Rutgers' Living-Learning Community apart is the attitude of the institution to the Newark community. Fenster Hall turns its back to Newark and expresses fears of urban life. Rutgers' newest projects are part of the city and neighborhood at a later time when Rutgers reassessed its responsibility as an urban citizen. Infill housing and historic preservation put "creative restraints" on developers and institutions. When developers like Rutgers incorporate history into their projects, the process, approvals, and financial cost might be more difficult, but the project is universally of higher quality.
The priorities and values of an institution are reflected in the architecture it creates for itself. NJIT should be an asset to Newark's economy with so many faculty and staff who genuinely care about Newark. The school deserves better architecture that reflects its commitment to Newark. NJIT and developers alike need to think about historic preservation and the pedestrian scale in all future projects.
"Transformation is the opportunity of doing more and better with what is already existing. The demolishing is a decision of easiness and short term. It is a waste of many things—a waste of energy, a waste of material, and a waste of history. Moreover, it has a very negative social impact. For us, it is an act of violence."
– Anne Lacaton recipient of the 2021 Pritzker Architecture Prize
.
Endnotes and Image Credits
[1] https://www.njit.edu/pandemicrecovery/njit-fiscal-update
[2] https://newarkchangingsite.wordpress.com/ Images scanned from the collections of the Newark Public Library
[3] All historic images are from the Newark Public Library's collection of photos by Samuel Berg: https://digital.npl.org/islandora/object/berg%3A96b40a0d-640a-46c0-bf48-8a232b155ccb
[4] https://digital.npl.org/islandora/object/berg%3Ab1889dcf-5009-4e8b-bbec-588c63fe3e9a
[5] https://digital.npl.org/islandora/object/berg%3Ae3100c3e-2ac2-4fb2-b42a-987ffbc0f781
[6] https://digital.npl.org/islandora/object/berg%3Ad65f7167-96a8-4e45-bb72-594ec57bf295
[7] https://digital.npl.org/islandora/object/berg%3Af94bf759-2be2-45dd-8e88-e3dd43ca8296
[8] https://digital.npl.org/islandora/object/berg%3Af58b08d8-f527-49d3-b841-2176bbba54d1
[9] https://digital.npl.org/islandora/object/berg%3A0286e6d3-b8ac-46b7-8968-5e8a39f863e2